LOOK: This Architect Transforms Old Wood Into Furniture And Functional Art
In Agi Pagkatipunan's hands, timber culled from antique homes get a new lease on life
An increasing awareness for a sustainable future shapes consumers nowadays. In a social media analysis, trend forecaster, WGSN, reports that most popular search keywords in their Influencer Map from 2017-2021 are "timeless", "versatile" and "repair," pointing to the consumer's heightened interest in a shared responsibility for the environment. From fashion to interiors, not only are they interested in knowing what styles are en vogue. They also want to know what they can do to promote sustainable actions such as promoting the reuse and upcycling of materials. It is timely, then, that Art Lounge Manila launched Agi Pagkatipunan's exhibit, Gatong, in their Molito space.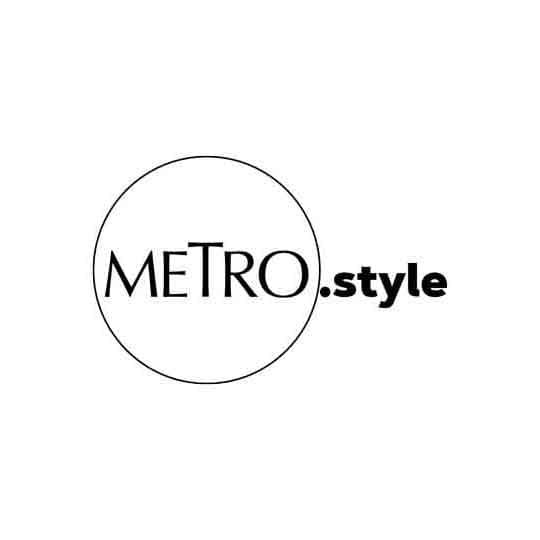 Agi Pagkatipunan HANGIN SA TUBIG 101" X 42" inches Kamagong, Yakal, Ipil, Molave, Dao, Tindalo, 2022 | Courtesy of Art Lounge Manila
To many of us, creating from raw nature could be seen as a revolutionary concept. Especially for those of us who are used to what is fast, easy and utilitarian devoid of nuance and oftentimes the frivolity of the innate shape and forms evident in nature. However, for Agi Pagkatipunan nature and the raw natural forms, and nuances provided by nature are what he uses to ignite his creativity and fuel his passion for creating beautifully nuanced, organic forms in his unique brand of functional art.
He draws inspiration mainly from his extensive collection of old wood sourced from antique homes as well a host of exotic and rare hardwood. To the untrained eye, this staggering collection would appear as nothing more than a pile of firewood or 'pang gatong' but to a master of his craft and his medium, he sees the potential of each piece of wood at a single glance. He relishes in the process of using the materials unique flaws and characteristics to each unique piece that comes from his workshop. The resulting work is a higly nuances and organic work that is truly and interaction of nature's own design and the artists unique eye, skill and mastery of his craft.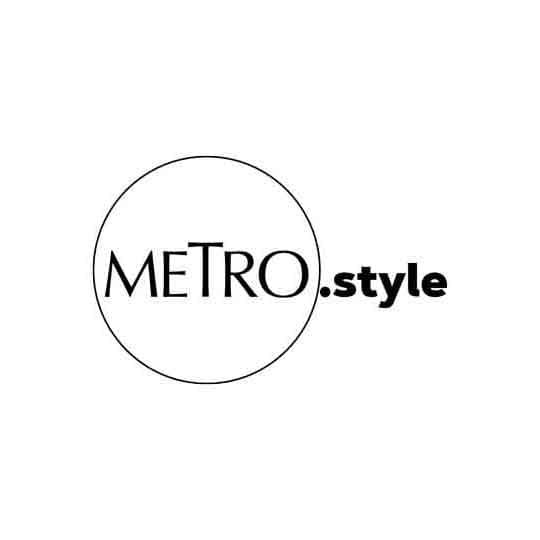 Agi Pagkatipunan PATUNGAN AT TAGUAN 44" x 18" x 33 inches Dao, Kamagong, Yakal, Ipil, 2022 | Courtesy of Art Lounge Manila
To witness Agi Pagkatipunan work is to watch a master in his element. The process of creation appears almost as easy as breath. There is a certain fluidity and ease to his process. But also if one is to take a deeper look, a closer look you see the keen experienced eye intuiting the strengths and weaknesses of each piece of wood and divining seemingly in an instant, the best way to carve, hone and utilize each piece to maximize its strength, beauty and functionality. What we do not see in a masters work is the years and years of work and experience that goes into each stroke of a chisel or how much information is gathered about the material by even lightest touch on wood. The sign of a true master his peak truly elevates his craft into art.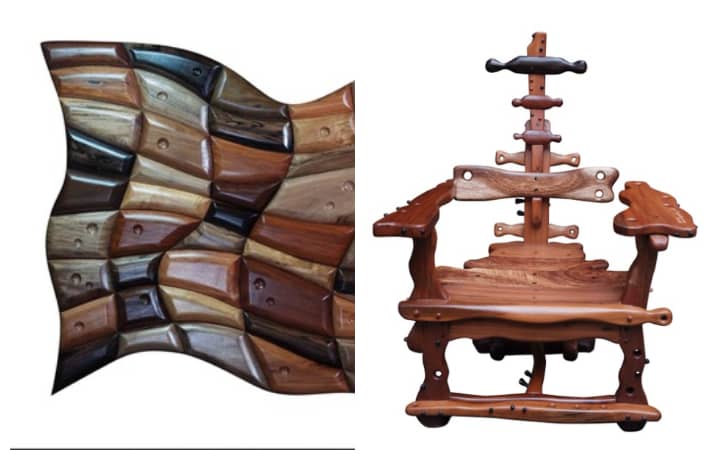 Photo Gallery
Photo Gallery
As an architect by profession, Agi Pagkatipunan is guided by the words of Louis Sullivan that "Form Follows Function." This is evident in his work in such a way that he remains true to the form that nature had provided and creates function out of it. We see this in how he features the full pattern of wood grain preserving it across multiple panels in each piece so it appears as though the wood grain continues throughout each piece, or how he uses the natural curves of the wood to create an almost ergonomic support in a chair or bench. He also never stains the wood but rather uses the natural shades and tones of different varieties of wood to create depth and contrast in his pieces. He has mastered the technique with such grace but also with such meticulous detail that the result is always a surprise.
For more information visit www.artloungemanila.com. You may also check their social media pages FB: @ArtLoungeManila for more details.