This Café Is Blazing With A Mix Of Mod Deco And Japanese Design Details
At Burnt Bean, helmed by Chef Joseph Galvez, Architect Sudarshan Khadka creates a space for a menu that flirts with fire and smoke
After the proverbial smoke has cleared, a phoenix has risen from the ashes of the Poblacion haunt Holy Smokes. Closing its doors back in August of 2022, the former owners of Holy Smokes wasted no time in creating Burnt Bean, a new cafe concept. In a swanky new space in BGC, Burnt Bean continues to play with fire with a smoky element present in every dish.
The space at Burnt Bean was designed by a Holy Smokes regular - celebrated architect Sudarshan Khadka. A witty and prominent use of shou sugi ban - the Japanese technique of charring wood in effect making it weatherproof - can be seen at the facade and a wall and ceiling in the interiors. A long banquet seating upholstered in green leather lines one wall while the other features a wooden counter for its bar. Marble tables and PU leather and metal chairs with midcentury modern forms create a more upscale look.
Head chef Joseph Galvez has also taken liberty to elevate the dishes with plates incorporating fire and its many forms. Their melt-in-your-mouth beef ribs is cooked in its own fat for 48 hours via sous vide and then finished on the wood-fire grill to get a charred crust. A bed of creamy cauliflower purée, a reduction of beef rib bones, and deep fried enoki mushrooms dusted with wasabi salt complete the dish.
Their Potato Pave - rectangular blocks of layers of thin layers of potato fried to a crisp - is paired with a foam infused with smoky bacon. The Watermelon Salad of arugula, feta, balls of honeydew and watermelon uses a honey chili sauce - with the chili as the "fire" element.
"Since we sell a lot of beef ribs, we use what's in between the bone of the beef ribs which we call the intercostal meat. We like it because has more collagen," says Galvez. "We also cook it for 48 hours and then we grill them and chop them up and add them to our Thai inspired salad with chili honey with tamarind and fish sauce."
The space can also transform from a quiet cafe in the day to a lively bar at night with a DJ spinning tracks. So having the ability to dim some lights to create the perfect vibe was crucial. To hide unsightly pipes and the exhaust on the ceiling, Khadka added a lowered shou sugi ban ceiling lined with plants.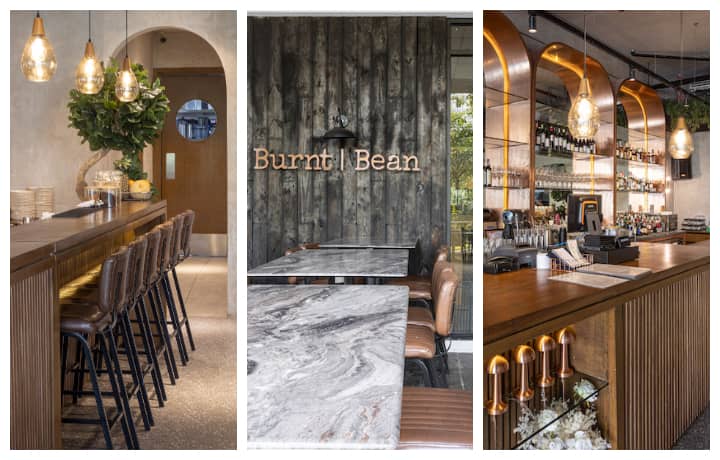 Photo Gallery
Photo Gallery
"We wanted to design a cafe that transitions into a restaurant and bar at night, creating different functions throughout the day. The charcoal grey tones and burnt wood plans reference the essence of the smoked and open-fire cooking concept. We wanted to contrast these dark tones with green accents using the planters and furniture. At night, the arched copper bar lights up and becomes the focal point of the restaurant," Khadka explains.
Get The Burnt Bean Look
Shou Sugi Ban
This Japanese architectural technique not only adds drama to a space with black charred wood, but adds many benefits to the wood itself. After the charring process, an oil is applied making the planks of wood weatherproof and even fire resistant.
Back Lighting Mirrors
Outlining mirrors with LED strips will make anyone look pretty (think how a ring light works). Some may also feel as if it gives a space at home a hotel-like ambiance.
Hanging Greenery
Plants shouldn't be limited to the floor! Let them hang out in higher areas of your home to free up floor space. This will also lead the eye higher giving the illusion of a bigger room.