This Minimalist Furniture Store In La Union Is Inviting You To Live Simply
Much like what La Union represents, its resident, Burt Select Shop is more than just a furniture store... It's a study in mindfulness, a three-dimensional projection of the owners' creative journey
Planning to ride the waves in La Union this summer season? Besides the surf culture, great eats, and the laidback vibe, here's another reason to drop by soon.
A five-minute drive away from Surftown sits a nondescript bungalow. But look closer, and you'll see that the glass window opens to a slow and steady study of minimalism, a concept space called Burt Select Shop.
Inside, everything feels fresh and uncluttered, a conscious design choice for the owners Lala Llanes and Troy Ventura who envisioned it to be a reflection of their minimalist lifestyle journey, a three-dimensional projection of the work they do internally.
With this philosophy, Lala and Troy shaped Burt into what it is today: a minimalist space, furniture and retail store, and coffee shop rolled into one.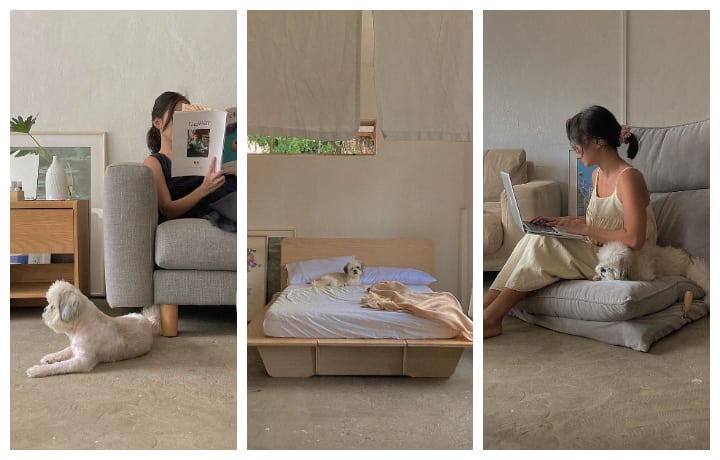 Photo Gallery
Photo Gallery
Creative Journey
Burt is the result of the owners' journey. Both Lala and Troy are designers and architects. But for Troy, the ocean had always been his dream home, so he moved away from the usual career trajectory of working in an office.
"When an opportunity came in, I moved here in La Union right before my graduation ceremony," Troy shared.
Lala, on the other hand, pursued the more conventional path. After graduation, she worked the 9 to 5 grind. When she realized this is not the path she wanted, she quit her job, packed her bags, and moved to La Union.
Troy added: "Burt Select Shop is the mirror of the journey we are working on internally in a more tangible framework that we want to share to everyone. To become mindful, conscious, aware, and seek truth through space, objects, and time."
A Tour Of The Space
Composed of two parts: the open area and the kitchen space, Burt is a study of simplicity and deeper connection.
So much of what we purchase, and place inside our homes are more often than not bought on a whim or impulse, when it should have been more thoughtful and introspective.
Burt seeks to change people's relationships with objects by "offering furniture and homeware that are minimal, conscious and functional."
Troy explains, "our intention is to share our journey to live mindfully. To practice non-attachment to both physical and non-physical by letting go of anything that doesn't serve us."
These values are reflected in the objects they curated, such as thrifted or second-hand Muji and Koala for furniture, Balay Pahulay for apothecary, Irugi for coffee, Barreta for soaps and shampoo bars, Shop Karma for essential oils and diffusers, and other conscious and eco-driven local brands like Kintab Toothtabs and Klean Katol.
New items pop up whenever Troy and Lala find something that they feel would be joyful in their own home, or objects that will resonate with their audience.
If these objects exist, "it would be an honor for us to let go and sell them."
Less Is More
Come to Burt Select Shop for a quiet and mindful time. Visitors can slowly explore the store, experience the space, and appreciate the artistry of each and every object. At the kitchen area, their coffee consignee Irugi brews slow drips complemented with warm conversations shared over hot mugs.
And because it's in La Union, you could say there isn't a more apt milieu for a space like Burt Select Shop. After all, La Union is a place people seek to get away from life's hustle and bustle.
And if you're the type who wants to find something deeper than living the beach vibe, drop by Burt to learn to declutter and realign your life.
Burt Select Shop is located at #39 Sta. Rosa de Lima St. Ili Norte, San Juan, La Union. Follow them on IG: @burtselectshop. Visit their site online at https://burtselectshop.com/.
Images by @burtselectshop