This Farm Getaway In Batangas Transports You To The Majesty Of France
Sefriya Farm & Orchard is a design triumph that affords you a relaxing French-inspired getaway just a few hours south of Metro Manila
"There is this concept of 'thin places' or holy spaces. Places where the boundary between heaven and earth somehow diminish—a place so peaceful you can almost feel the Divine. We've been to several places like that. Sometimes in a small town, sometimes in a beautiful gallery, sometimes in a small room with a loved one. This is what we envisioned Sefriya to be," Sefriya's Ron Bernabe-Flores tells Metro.Style.
And it's clear as day on how the concept was put into place—taking inspiration from the many travels abroad and putting it in this secluded patch of land in Batangas. Sefriya, a popular destination for intimate celebrations, is a design paradise tucked just a little beyond the edges of the metro for a quick and relaxing getaway.
Opening to the public just a few months ago, Ron shares how the property was initially intended for their family. This intention added to the charm of the farm, for when it started welcoming guests, it exuded an exclusive and intimate feeling dedicated for get togethers and rest. "I think that's why many people appreciate it as well," she adds.
Its beautiful landscapes and chic interiors perfected the whole space. Reminiscent of iconic landmarks in France, Ron likens the design process of Sefriya to scrapbooking. "Imagine traveling with a journal, taking photos, coffee-stained postcards, candy wrappers, and museum tickets from every place you go," she describes. "Like any other art, the design process was painstakingly unrushed and fulfilling. We enjoyed slowly building each nook and cranny of the farm. It was like picking parts and pieces of all our favorite travel memories and putting them all in one plot."
There's a view of the Gardens of Versailles replica in their garden Liwasan, boasting of a vast courtyard and a tiered garden fountain. There's a museum-like scenery of Van Gogh-inspired murals in their waiting area, a masterpiece by local artist Jerryl Laniguez Gabo. He was also the mastermind for bedroom and headboard murals in Sefriya's accommodations—a space that transports guests to Provence, with interior design direction by Cleo Tenorio. Alitagtag workers also customized and hand-made their wooden furniture—from beds, chairs, desks, and even cabinets!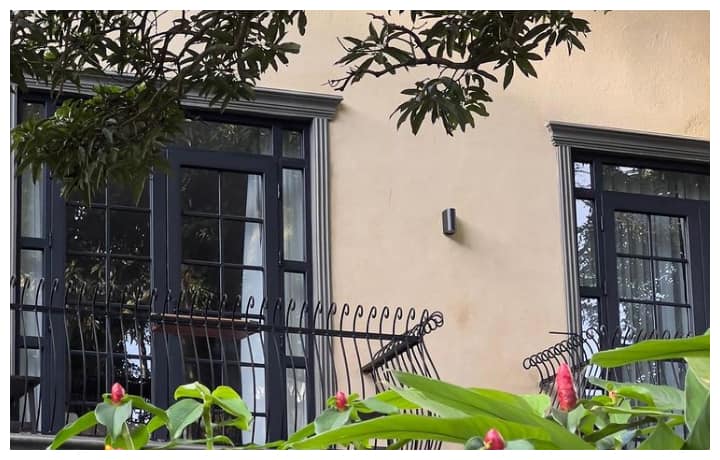 Photo Gallery
Photo Gallery
The Grand Pavillion, called Tipanan, has a grand stone staircase leading to the church. The pillarless pavilion is often bathed in natural light, thanks to its huge French windows. On its high ceiling hangs rustic chandeliers; on the floor lay machuca tiles—overall, these create a very sophisticated yet warm and welcoming feeling.
The area also opens up to a spacious balcony that oversees the flower garden of the farm. And heading to this flora wonderland, it's a romantic spot that's similar to a scene straight out of a fairytale, especially after sunset when the gazebo is lit. And onto the Gazebo named Cariñosa, its beautiful checkered floors, elaborate crystal chandelier, and see-through dome ceiling makes it a stunning venue for all kinds of celebrations. And of course, the resort takes pride in their pool—embraced greenery and flora where guests can enjoy some downtime alone or with your favorite companions.
Sefriya also hosts workshops from time to time, recently concluding a pottery session with participants of all ages. They also plan to do more collaborations with local artists and lifestyle instructors to teach painting, pottery, yoga, and even massages. "We are slowly building our list," the owner shares.
While the grand elegance of Sefriya alone makes it worth the ride down to Batangas, the family envisions for the business to be more than just a beautiful place for recreation. "We'd say it's a place for love of all kinds," Ron muses. "A place to create, restore, and celebrate—in peace and quiet, but together."
With this in mind, they not only serve their patrons, but also aim to give back to the community. Sefriya's workers are hired with their sustainability as the goal. "We hire for character, attitude, and work ethic. Our goal is to continue developing our team members for skills they can use in and out of the farm as well as to provide them with complete benefits mandated by the government. More importantly, to help uphold their dignity of work," Ron points out.
Apart from this, they also celebrate another form of love through the Sefriya scholars program, where 30% of their net income goes to.
And there's more to look forward to in this stunning destination, as Ron and the rest of their team prepares to put the spotlight in their dear province. "We are excited to highlight more of the art and cultural heritage of Batangas. Soon, we will have a small store where guests can bring home local handicrafts, unique home accessories, and artisanal products like tablea, coffee, and maybe even suman! And since a lot of people ask if they can buy the plants from our gardens, we might also put up a greenery just for our guests," she excitedly reveals.
"For now, we set our eyes to sincerely fulfilling all the goals we have set for all our stakeholders—our patrons, our team, and our community," Ron says. "What the future holds, we are excited to discover, too."
Ready to experience this haven? Visit Sefriya's Facebook page for more information.
Photographs by @sefriya.ph