Angelina Jolie Participates In An Art Project By Sending Her Hair Strands
The actress and humanitarian cut her hair to honor the courage of Iranian activists
Angelina Jolie has since been on the side of the deprived, oppressed, and disadvantaged, and her fight for equality and freedom continues as she joins a cause that encourages the radical efforts of women across the world. The A-list actress, in her latest Instagram post, shared photos of her children whose locks Angelina cut herself to honor freedom fighters.
"My friend Prune Nourry is running a beautiful art project to show solidarity with brave women in Iran who are struggling for equality and rights, and to honor their courage. My family [members] are taking part," she penned in the caption, persuading anyone, if not all, to send strands of their locks to the team.
The global movement, Strand for Women, gathers women and men worldwide to participate in an art project that shows support to the Iranian and international community who are championing and fighting for freedom. Run by artist Prune Nourry, the resistance will mount an exhibition in New York, U.S.A. on March 8, 2023.
The "symbolic act of solidarity," according to Prune, "amplifies the call" to advocate in favor of the Iranian fighters who continue to take action and tackle the crisis in Iran. Sparked by the suspicious detainment and eventual death of Mahsa Amini, a 22-year-young woman who was arrested for allegedly violating a law while visiting the city of Tehran, which is Iran's capital.
Held in custody for not covering her head with the mandatory Muslim headscarf hijab, Mahsa was believed to be beaten by police officers in the province. According to authorities, however, she had a heart attack days after the arrest. The nation was angered when the news broke, bringing civil unrest to the country.
"The Iranian population is asking for everyone in favor of democracy, everyone in favor of women's rights, to support the current revolution and bring light and attention to their important fight," Angelina Jolie's friend Prune Nourry said in her Instagram statement. "They need all of us," she furthered, calling on countries to collaborate.
Browse through the gallery below for photos of hair strands that were sent to this humanitarian project: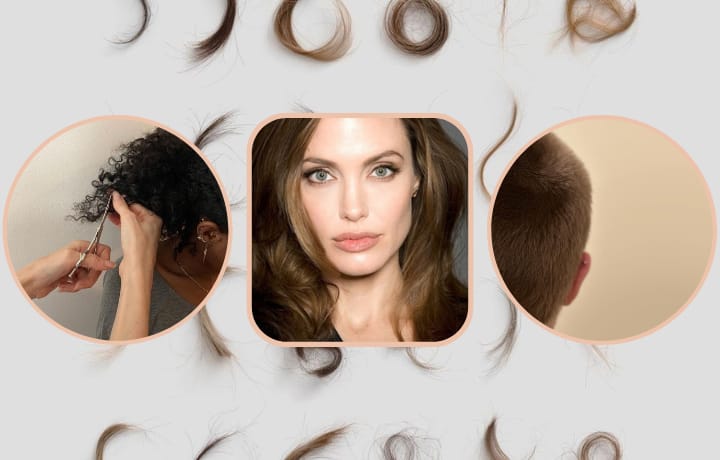 Photo Gallery
Photo Gallery
Lead photos from @angelinajolie, @prune, and www.themoviedb.org