South Korean Boy Group 8TURN Gears Up To Be A K-Pop Game-Changer
It's the turn of this eight-member group to shine, and we're lovin' their catchy music and impressive moves
New K-pop head turners are on their way to set performance stages on fire.
Let K-pop's hotshot rookie group 8TURN turn your whole fangirling (or fanboying) world upside down—and in a good and exciting way!
8TURN, initially named as B.O.M. (Boys of MNH), is composed of eight (8) charming, vocally gifted and skilled talents: MYUNG HO (vocals), JAE YUN (leader, vocals), MIN HO (vocals), YOON SUNG (vocals), HAE MIN (vocals), KYUNG MIN (vocals), YUN GYU (rapper) and SEUNG HEON (rapper, maknae).
The K-pop octet debuted on January 30, 2023—making them the industry's first K-pop boy group to launch this year—with their first mini-album 8TURNRISE. The mini album was kicked off by the fiery lead single "TIC TAC" with fans and industry observers alike praising the refreshing and colorful concept of the music video. Other tracks in the album are "WE," "WONDER," "Say My Name," and "Heartache."
For the group, it's been an exhilarating yet fun ride when they officially launched and showcased their own brand of K-pop. YUN GYU, 8TURN's resident rapper, can already feel the excitement of it all. "First of all, our music is just so good, I am having so much fun performing our music. We have so many fans coming to support us, which gives us so much energy. We are quite busy, but we are thankful for this and it is something we need, so we are doing our best," he says.
"We've been working really hard for this album, so we wish more people could know about this," YOON SUNG adds. Despite being in an industry inundated with a sea of talents, 8TURN is committed to forge their own path and pave their very own way. The group's mini album 8TURNRISE is an indication of things to come for their sound and how they intend to conquer the K-pop scene.
"You would notice, if you have heard all five of our tracks, many different genres are mixed in our songs. They are never limited to one genre or concept. Each track has a distinctive and strong style and musicality," 8TURN leader JAE YUN explains. "And you know, all of our members have a unique charm of their own. So rather than focusing on a certain style, we use different genres, concepts and visuals. We try to express our diverse and extraordinary music style."
Asked what 8TURNRISE is all about, the group shared the meaning and the importance of the mini album for each member. "Our first mini-album 8TURNRISE symbolizes the beginning and the rise of us—eight boys with infinite potential," YOON SUNG begins to explain. "In the lyrics of our main track, there's a phrase meaning 'Wake up! The world is blinded by mundanity.' Just like that, it's about giving excitement to people with mundane life through our music."
MYUNG HO took the opportunity to explain the title track and what it symbolizes for the group. "Our main track 'TIC TAC' is from a skateboarding skill called Tic Tac, and it means that we won't be trapped in common practice and we will pave our own way using 'TIC TAC.'"

The members were also generous enough to share stories and describe the other tracks included in the mini album. "The first track of our mini-album, 'WE,' is all about powerful sound and powerful lyrics. You will also enjoy our powerful dance moves, and from our lyrics 'There is no fear, we will move forward,' so it has messages implying our confidence," KYUNG MIN says.
For SEUNG HEON, the 3rd track 'WONDER' is "a hip hop music blended with R&B, a track that introduces 8TURN's universe."
Meanwhile, HAE MIN says listeners can expect 'Say My Name' as a song with bright and cheerful sounds, adding that "in this song, we use the word 'dynamite' a lot, and you will see our explosive charm like the dynamite."

Rounding up the songs from the mini album, MIN HO shares that 'Heartache' is the last track and the only ballad-based song in the lineup. "When you see the lyrics, it's about going into the unknown future and our story of moving forward," he pensively says.
The group is also owning the identity of being carefree and not conforming to standards set by society. Just as it is being embodied in their diverse music and mixed genres, 8TURN is also breaking the norm with their fashion styling (e.g. wearing their pants backwards).
More photos of the 8TURN members in the gallery below: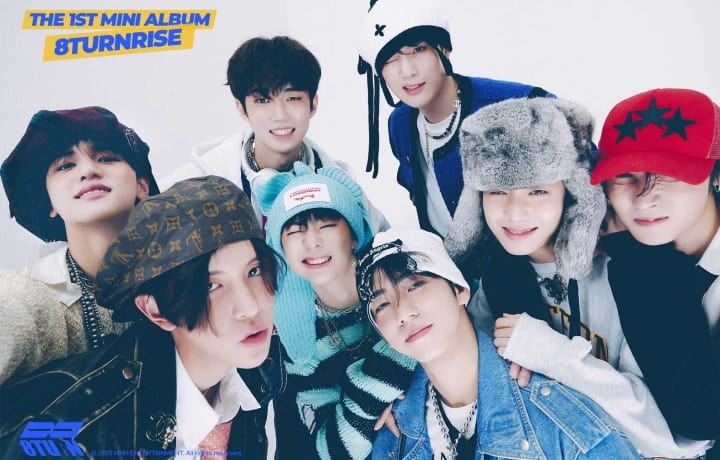 Photo Gallery
Photo Gallery
"First of all, we decided to wear our pants backwards as an homage to the famous American hip-hop duo Kris Kross. Just like that, we try to break the pattern or stereotypes that we take for granted. And we were like, 'Can [we] do this way? What about that?' We keep [asking] questions to ourselves," JAE YUN says, emphasizing the group's intention to break stereotypes.
YUN GYU agrees with the group's leader, saying, "One of our mottoes is paving our own way. We won't follow others' footsteps—we will TIC TAC, we will create our own fashion, make it ours and we will show our charm."
When asked about the Philippines, 8TURN enthusiastically shared what they know of and what they're excited about the country such as the tropical fruits (so much excitement about mangoes), the summer weather, scuba diving, exploring Cebu and the beauty of nature in the Philippines.
However, more than anything, the group expressed its desire about most important part of their future trip to the country. "But what we are excited about the most is our fans in the Philippines! I really hope you know that. We will definitely visit the Philippines to see you guys. We love you," 8TURN concludes.
Photos and videos from MNH Entertainment
Coordination by Anastasia Kuvaldina and Grace Libero-Cruz
Video editing by CJ Reyes
Interview by Grace Diez