Alex and Toni Gonzaga: Multifaceted, Multimedia Stars
They're actresses, comediennes, singers, hosts, authors, and entrepreneurs. And as if these aren't enough for this pair of goal-getters, they've conquered and owned the online space too, and are now among the top celebrity digital content creators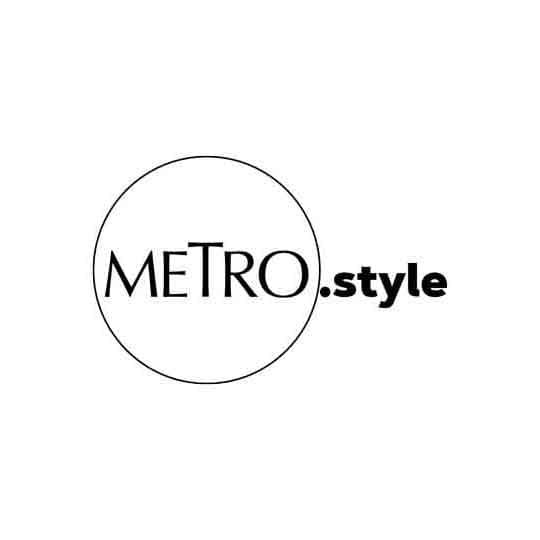 On Alex: Dress by Andrea Suarez Atelier | On Toni: Dress by Jemore Wilson | Photo by Gee Plamenco Jr.
When the world paused because of the COVID-19 pandemic, the lives of many came to a screeching halt. The global health crisis forced everyone to stay at home, redefining the concept of work and play along the way. But in the era of social distancing, sisters Alex and Toni Gonzaga unexpectedly found themselves meeting and getting up close and personal with many people. And they have their other roles as digital content creators and influencers to thank for the most part.
With the noticeable shift to the virtual lifestyle in 2020, Alex and Toni took on the challenge of embracing a new audience through the online platform.
Alex, who debuted in showbiz much later than her "Ate," was the first to dip her toes into creating a YouTube channel which, as of this writing, has already amassed 12 million followers. The 33-year-old self-made digital superstar is now in her fourth year as a vlogger.
A natural comedienne, she continues to entertain her followers and subscribers with her wacky antics, witty jokes, and simply her unfiltered self that thousands一even millions一of netizens have come to love and appreciate. The combination of authenticity, spontaneity, and creativity has propelled her to unexpected heights; this has made her one of the top YouTube vloggers in the Philippines today, with vlogs that often make it to the top spot of the trending list.
Toni, on the other hand, was inspired to rebrand her YouTube channel to become the Toni Gonzaga Studio, known for the online talk show "Toni Talks" which almost 5 million netizens are subscribed to.
With her hosting experiences that date back to early 2000s, those who are in the know in showbiz will agree that hosting and interviewing proves to be this 37-year-old's forte. She has banked on those skills to adapt to the virtual setup, and she has undeniably transitioned successfully. Since launching her YouTube series of interviews with celebrities and society personalities in September 2020, Toni has consistently churned out relevant, in-depth, deeply emotional, and at times controversial episodes on her channel.
Both multitalented and multifaceted (they're actresses, comediennes, singers, hosts, authors, and entrepreneurs), Alex and Toni are unstoppable at doing what they know best: entertaining. They represent two different vlogger personalities: the serious, with Toni's inspiring and insightful conversations, and the funny, with Alex's raw and animated vlogs.
With the new kind of success they're enjoying一one that isn't measured through box-office or sold-out concert earnings but through the number of views, likes, shares, and comments一Toni proves that she's indeed the "Ultimate Multimedia Star." But now her "sissum" Alex has also carved her own niche, enough to also make her deserving of multimedia star status.
These superwomen are also known for having such a tight-knit family. During the pandemic, they've had to juggle taking on new roles in their personal lives: Toni as a more hands-on, homeschooling mom to 5-year-old Seve and Alex as Mrs. Mikee Morada.
In this process and along with these progresses, the two have also further strengthened their relationship as sisters who are always supportive of each other's endeavors. There is no sibling rivalry between them, only revelry to celebrate each other's wins.
The two sisters will be celebrating their birthdays this month of January—Alex on the 16th and Toni on the 20th. Get tips from these Belo endorsers on how to transform your year and become the best new you!
Read our conversation with the Gonzaga sisters below:
Toni on Alex finding her purpose through vlogging
"I'm happy for her. She found a safe space and platform where she can be herself. She can be comfortable with what she's doing without being limited and hindered. So she's very free dun sa vlogging world na pinasukan niya na parang mas na-e-express niya 'yung creativity niya. We're very happy for her because dito siya nag-flourish, mas na-explore niya 'yung capabilities niya. She creates her own concepts, her own content, so talagang na-stretch niya 'yung creativity niya…"
"It's a testament na if you are true to yourself and you embrace who you are, then the world will embrace you as well. Mas ni-love muna niya 'yung sarili niya tapos ni-love siya ng mga tao. Kasi dati nila-love lang niya 'yung sarili niya kung ano 'yung ipapagawa sa kanya ng tao, kung ano 'yung sasabihin sa kanya. But when she became unapologetically true to herself, parang nag-radiate na lang 'yung happiness na meron siya."
Alex on finding her own voice
"Parang 'Ay salamat, hindi na iisipin ng parents ko na I have to be like my sister—mag-dance ka, mag-sing ka, mag-workshop ka rin, para makuha mo rin 'yung ginawa ng kapatid mo.' Kasi parang feeling nila nilalaro ko lang. Tapos naisip nila, okay pala na nilalaro lang.
[Toni: "Lagi niya kasing nilalaro ang showbiz, so feeling niya playground lang, playtime. Pero nung vlog, nag-playtime lang siya, aba, na-embrace siya ng mga tao sa pagka-playtime niya."]
"All my life I know that the measurement of success is the box-office, concerts, top-rating shows. This is very new to us. Hindi namin naisip. Well, hindi ko naisip na successful like my sister. It's a different world for us. So parang 'pag dumadami 'yung nagta-trust sa'yo na mga tao, mag-iisip ka na parang, 'Uy, parang in a way, meron palang nangyayari sa ginagawa ko."
Toni on starting "Toni Talks"
"Actually, 'yung 'Toni Talks,' ang nag-push sa akin niyan, sina Paul and Alex. Silang dalawa. Sabi nila, 'Gawin mo na 'yan. Kasi diba sabi mo nami-miss mo na ang hosting?' Kasi nung hindi tayo nabigyan ng franchise sa ABS-CBN, s'yempre nami-miss mo 'yung hosting jobs. Tapos sabi ni Paul, 'You can still host.' Sabi ko, 'Paano?' Then he said, 'See what's left, kung ano na lang ang meron. You still have your platform. There's a YouTube channel.' Sabi ko, 'Paano?'
"So talagang we invested in it. We spent on lights. Talagang mapapansin mo sa umpisa, naku, wala pang audio. Nag-invest na kami sa lapel. Talagang nag-i-invest ka, you're putting out money to invest in the show. Sabi ni Paul, 'Let's just think of it as your workshop while you're in-between jobs, waiting. Try to hone your hosting, like conversing with people. Like the conversations you really want to talk about.' It's like a freeing content for me… that I can talk about whatever I want. The things that I really want to talk about. Not questions that were given to me, not things that were imposed to me, 'O dapat gawin mo ito.'"
Alex on married life so far
"Okay naman. Wala akong masabi na talagang masayang-masaya. Honeymoon stage pa kami ni Mikee, pero siguro blessing din na nasa bahay kami ng parents ko, so in a way hindi namin nararamdaman 'yung pressure ng married couple. So we always have the guidance of both our parents… Puro saya pa lang. Feeling ko nga live-in boyfriend ko siya. Para kaming live-in, 3x a week nasa Lipa siya, so dumarating lang siya. So feeling ko live-in."
On their definition of me-time and self-care these days
Alex: "Ako, favorite ko kay Dra. Vicki Belo 'yung Vitamin Drip, even with Mikee ipapagawa ko rin. 'Yung Cinderella Drip also has this glutathione with Vitamin C na very good for protection against COVID. When I asked them kasi what is good for protection, si glutathione is good for your liver and it's an antioxidant, and an antioxidant is good for your body kasi it kills cancer cells. Hindi siya pagiging vain when you're doing the drip, it's actually self-care, side effect lang 'yung pumuputi ka at nag-glo-glow ka. But it's really removing the toxins in your body and with Vitamin C as well. Next ko, I also like the Jet Peel, the Skin Master. And of course, the Fillers. 'Yun ang mga favorite ko sa kanila. Non-surgical, non-invasive, but it really gives you the effect."
Toni: "Ako, Belo Illuminating Laser Hair Removal. Alam mo 'yan, 'pag mommy ka na, wala ka nang time for anything, so ipa-laser mo na lahat."
Alex: "Ako, Belo Illuminating Laser Hair Removal also, to the point na inuwi ko siya sa house. Ngayon nawawala siya, walang makapag-book. Inuwi ko lahat."
Toni: "Belo Illuminating Laser Hair Removal, hindi lang natatanggal 'yung hair sa skin but it also illuminates the armpits—all the parts."
Alex: "Number one that makes your armpits dark is the hair follicle. 'Yung mga chicken skin. 'Yung pagtubo ng buhok. When mag-laser ka, ma-smoothen talaga. Mawawala 'yung lines and dark spots. And with the illuminating effect, wow, grabe!"
Toni on whether she's scared of turning 40 in a couple of years or not
Toni: "No, it is an achievement to reach 40. It is an achievement to age. It is a gift. During this time, it's an achievement to reach that age. When you grow old, it is a privilege; not a lot of people are given that privilege to celebrate another year to be alive. Virgil Abloh, can you believe it, nagising ka, wala na siya. He was only 41 years old. Who would have thought? Kaya ako, I celebrate getting old, I celebrate my birthday with so much gratefulness, thankfulness. I look forward to turning 38, turning 39, turning 40 in whatever age I can reach. I am looking forward to that.
"Nakausap ko si Tita—I was doing this sitcom and may senior actress who told me—'Toni, you think your 20s are fun, you think your 30s are it, you wait till you reach 40.' That is when your full essence as a woman will come out. It will be in full bloom when you are 40. When you are 40, there is so much security about who you are, you don't care about what other people think of you, and you will reach a certain point in your life na okay, kilalang-kilala ko ang sarili ko. Pagdating mo raw ng 40. So I'm looking forward to that stage na I'll be so comfortable and secure about who I am. That I am able to reach my 40s."
Alex: "Alam mo ba 'yung 40s? The peak of a woman's sexuality."
Toni: "Kaya nga siguro sinabi 'yun ng senior actress na kausap ko."
Alex: "Eh bakit ako parang nag-peak na?"
Toni: "Kasi honeymoon period ka pa lang. Sabi niya, 40 pa raw. You should look forward to turning 40."
Alex: "You'll embrace your sexuality…"
Toni: "Yes, 'yung pagkababae mo, 'yung essence ng pagkababae mo, doon lalabas 'yan sa 40s. I'm looking forward to it."
On turning a year older this January and what they're looking forward to this year
Alex: "Ako, go with the flow lang ako. Last year, I was 38. Ngayon, I'm turning 34. Benjamin Button ako, pabaliktad (laughs)! I'm not planning anything, because after everything that happened to me and my husband this 2021, it's really a realization and reminder that you can't plan anything, lalo na 'yung sa pandemic. It's all up to God. Plan and you just have to surrender. The more ka mag-plan, the more ka mafru-frustrate if it won't happen the way you want it to. So might as well just enjoy every bit of what life is throwing you."
Toni: [Corrects Alex] "Throwing at you."
Alex: "At you."
Toni: "Kinulang ng preposition."
Alex: "Kasi pandemic, so nagkukulang ng ganyan, mga words. Nagtitipid ako."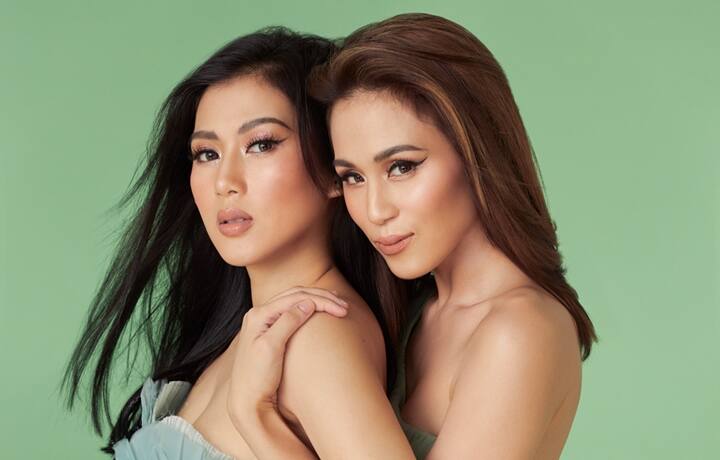 Photo Gallery
Photo Gallery
Photography by Gee Plamenco Jr.
Videography by Pat Buenaobra
Creative direction by Patrick Ty
Sittings editor: Geolette Esguerra
Makeup by Denise Go-Ochoa and Effie Go Iñigo
Hairstyling by Jerry Javier and Jaymar Lahaylahay
Styling by Cath Sobrevega, with styling associates Melaika Varca, Riri Verano, and KT Landingin
Shoot coordination: Ceia Ylagan
Shoot assistant: Carla Buyo
Interview transcription by Cara Tirona