Get To Know Miss World Philippines 2022 Gwendolyne Fourniol
The 21-year-old French-Filipino beauty queen won the Miss World Philippines title on her second try
Negros Occidental's Gwendolyne Fourniol was named Miss World Philippines 2022 during the pageant's coronation night held on June 5 at the Mall of Asia Arena. This beauty from Himamaylan City will represent the country at the upcoming 71st Miss World pageant.
Miss World Philippines 2022 Gwendolyne Fourniol bested 35 other candidates. She was declared the winner alongside Las Piñas City's Alison Black as Miss Supranational Philippines 2022, Makati City's Ashley Subijano Montenegro as Miss Eco International Philippines 2022, Parañaque City's Ingrid Santamaria as Reina Hispanoamericana Filipinas 2022, Marikina City's Justine Beatrice Felizarta as Miss World Philippines Tourism 2022, and San Juan City's Cassandra Bermeo Chan as Miss World Philippines Charity 2022.
Gwendolyne Fourniol also won the Best in Evening Gown and Miss Silka special awards. For the challenges pre-coronation night, she was also among those who stood out in the Top Model Competition, National Costume Competition, Talent Competition, Head to Head Challenge, and Beach Beauty Competition.
During the first Q&A round at the coronation night, she was asked: "Your mother actually chose to leave the Philippines for a life in France but you did the opposite. You left France for life here in the Philippines. How has this paradox of life shaped your BWAP project with ERDA Foundation?"
She said, "I moved to the Philippines at the age of 18. I was all alone but my mother is my strength. Growing up in Europe, I was very open-minded. Moving to the Philippines, I could see the generous hearts of the Filipinos and I told myself this is my home and I want to stay here. That is why I dedicated my life to helping ERDA Foundation. I am pretty sure we have around 30 volunteers from ERDA Foundation in the audience. I am so happy that you guys are here today because I am doing this for you. You are my strength. Education is a right and not a privilege."
ERDA (Educational Research and Development Assistance) Foundation is a non-stock, non-profit organization that aims to promote the total development–physical, social and economic aspects–of underprivileged children. ERDA has so far helped about 800,000 children and youth in their education.
As for the final Q&A segment, Gwendolyne was asked to share her thoughts on how the country could cope with the education deficit accumulated due to the pandemic. She answered, "As an advocate of education, I do agree that during the pandemic, we have suffered the most but the children who have the lack of access to education have suffered the greatest and working hand in hand with ERDA Foundation who empowered the marginalized Filipinos, I believe by uniting benefactors and encouraging our children and allowing them to go back to school especially during this pandemic will make this world a better place because education is the greatest weapon against poverty."
Here are some interesting things about Miss World Philippines 2022 Gwendolyne Fourniol:
1. Her name signifies "pureness of the soul." In a video execution for Miss World Philippines 2022, Gwendolyne shared, "My father chose this name because he believes in benevolence and generosity. And these core values have been embedded within me ever since."
2. She's always been passionate about charitable initiatives. This is because her Filipino mother was a beneficiary of the non-stock, non-profit organization ERDA Foundation, which was founded in 1974 by Fr. Pierre T. Tritz, SJ. "Thanks to him, my mother went to college and got her degree in psychology," Gwendolyne shared.
3. It's her advocacy to empower the Filipino youth through education. "Growing up, I witnessed my parents sending money to the Philippines, especially my mother who is devoted to helping the underprivileged including her family…," she recalled. "My parents have always reminded me and my two brothers to always be grateful of everything we have. And this exceptionally empowered me to be an instrument to help others. Fr. Tritz always used to say: 'Educating a child is to save a man.' And this has echoed in my senses ever since." She has now made it her mission to help ERDA build more schools and provide educational assistance for underprivileged yet deserving children.
4. She graduated with a degree in economics and modern languages in Oxford Brooks in London, England. This is why she's trilingual; she can speak French, Filipino, and English.
5. She also joined Miss World Philippines 2021. She reached the Top 15 of last year's competition. Gwendolyne won the coveted Miss World Philippines title and crown on her second try.
Check out the gallery below for more photos of Miss World Philippines 2022 Gwendolyne Fourniol: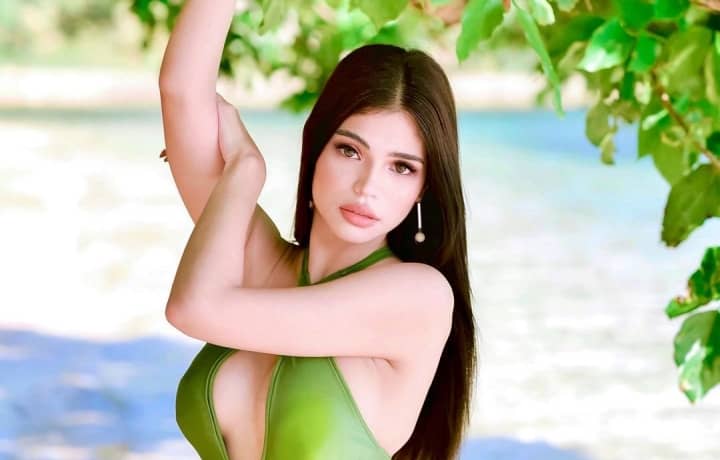 Photo Gallery
Photo Gallery
More on Gwendolyne Fourniol from her "Fast Talk" interview with Miss World Philippines:
Favorite sleeping attire: "Silk gown"
If you would be an animal, what would you be? "I would be an eagle because I want to fly and be free."
Dream destination: "Hawaii"
First thing you do when you wake up and the last thing you do before sleeping: "I wash my face and then before I go to sleep, I check my social media."
Talent/skill you developed during the pandemic: "Playing the violin"
During the coronation night, she was crowned by Miss World Philippines 2021 Tracy Maureen Perez, who finished in the Top 12 of the international pageant held in Puerto Rico last March.
Gwendolyne is vying to become the next Filipina titleholder at Miss World. Megan Young is the first-ever Filipina to have been named Miss World back in 2013.
Lead photo from @msworldphil | Gallery photos from @gwenfourniol