This Filipino Family Toured The "Extraordinary Attorney Woo" Filming Locations
The 500-year-old hackberry tree featured in the series might be designated as a Natural Monument
Extraordinary Attorney Woo has become such a well-loved series. It was consistently among the buzzworthy K-dramas throughout its run. It even consistently topped Netflix's non-English TV category. Viewers also have newfound appreciation and love for stars Park Eun-bin, Kang Tae-oh, and Kang Ki-young, and have been introduced to cast members Ha Yoon-kyung, Joo Jong-hyuk, and Joo Hyun-young.
The lighthearted legal drama became a trending topic online, with the "Woo to Young to the Woo" greeting between Park Eun-bin's Woo Young-woo and her best friend, Joo Hyun-young's Dong-Geu-ra-mi even reaching viral status. Who knew, too, that something as mundane as the revolving door could have such significance in a drama?!
Extraordinary Attorney Woo was a refreshing series for many, primarily for its choice of lead character, a female attorney with autism spectrum disorder. But apart from that, there was also the undeniable chemistry between Park Eun-bin's Woo Young-woo and Kang Tae-oh's Lee Jun-ho, plus the warm and funny presence of Kang Ki-young's Jung Myung-seok. The friendship Woo Young-woo have with Dong Geu-ra-mi and Ha Yoon-kyung's Choi Su-yeon was also heartwarming. Even the "wildcard vs. tactician" competition between Woo Young-woo and Joo Jong-hyuk's Kwon Min-woo became endearingly harmless in the end.
With all these elements combined and so much more, it's no wonder Extraordinary Attorney Woo has been renewed for a second season.

The latest amazing thing about Extraordinary Attorney Woo is that Sodeok-dong's Hackberry tree in the series has become a tourist spot, so much so the Cultural Heritage Administration of South Korea is considering designating the 500-year-old tree as a Natural Monument.
Following the success of the K-drama, the tree, located Dongbu Village in the southern city of Changwon, has been sought by tourists, with residents reportedly seeing a sudden spike of interest in the spot.
This tree is one of the Extraordinary Attorney Woo filming locations that this South Korea-based Filipino family visited. K-drama fans Seneca Moraleda-Puguan and her husband Juan, along with their kids, also went to the gimbap store of Woo Young-woo's father and their house, the Hanbada Law Office, and the Yeoksam Station.
Check out their trip in the gallery below and find out more about the locations from Seneca in the interview below: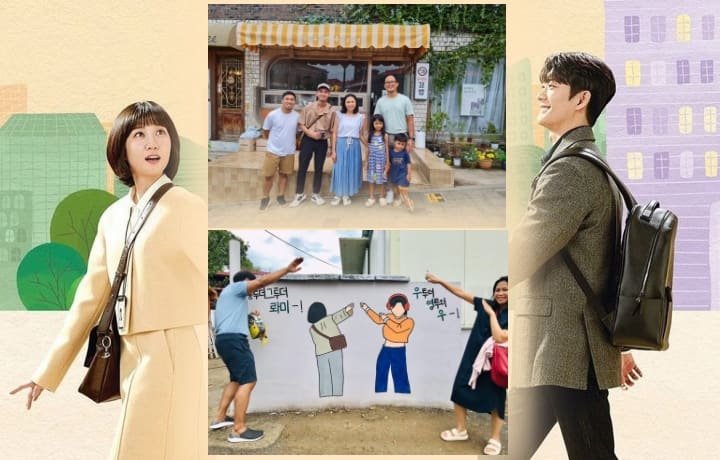 Photo Gallery
1. Which locations of Extraordinary Attorney Woo did you visit? How did you go to each?
"We visited the hackberry tree at the top of a hill, located in Sodeok-dong in the series. In reality, it's in Dongbu Village, Changwon in South Gyeongsang Province, an hour away by car from Busan but four hours away from Yongin where we live.
"As for the gimbap store and Woo Young-woo's house, they are very near our place, just 30 minutes away by car. They are in Hwaseong Fortress, Suwon.
"For the Hanbada Law Office, it's just walking distance from Yeoksam Yok (Yeoksam Station). It's in the Gangnam district which is an hour away from Yongin."
2. What is the office of Hanbada really for in real life? Are tourists welcome to go in and out of the lobby?
"The lobby of the Hanbada Law Office was shot in Centerfield, an office complex which has shops, restaurants and even hotels. Tourists are welcome to go in and out of the lobby."
3. How about the location with the hackberry tree at Sodeok-dong in the series, what can you say about this place?
"The location of the tree at Sodeok-dong (or in Dongbu Village) is an ordinary, simple village or neighborhood. It's also quite hard to reach if you will commute by bus, so it's better to go there by car. The community painted their walls with whales and drawings of Woo Young-woo, converting the place into a tourist destination."
4. What did you love about Extraordinary Attorney Woo?
"Extraordinary Attorney Woo made me and my husband shed tears and laugh a lot. All the characters, especially Park Eun-bin, din an exemplary job. The love story was so kilig. Through the drama, we also learned things about the autism spectrum disorder which some of the people we know have been diagnosed with.
"But what my husband and I liked most about it, like every K-drama we loved, was that every episode tackled issues that the Korean society is facing or dealing with. We especially loved the episode about the young children who were thought to have been kidnapped by the son of their academy's owner, only to discover that what he was doing was to actually let them experience the joy of playing. This really broke and touched our hearts at the same time. We thoroughly enjoyed Extraordinary Attorney Woo and we can't wait for Season 2!"
Lead photo from ENA/Netflix
Gallery collage courtesy of Seneca Moraleda