Okada Manila Champions a More Sustainable Travel Lifestyle
Okada Manila teams up with La Bottega and Roberto Cavalli, and takes a huge step in reducing plastic waste to make travel and leisure more sustainable even for guests
Okada Manila, Asia's largest ultraluxury integrated resort, continues its partnership with La Bottega, the world's leading purveyor of luxurious and eco-friendly bath and body amenities, and the Italian fashion house Roberto Cavalli, and craftedsustainable travel and lifestyle options for the resort's visitors and guests.
Okada Manila is completely replacing all current recyclable plastic bathroom amenity bottles with 99% recyclable Roberto Cavalli hotel amenities in La Bottega's sleek aluminum packaging starting March 1, 2022. This is in line with the integrated resort's strong commitment to be even more environment-conscious as it continues to provide its guests world-class experiences. Having its 993 ultra-luxury accommodations use bathroom amenities with fully recyclable packaging will significantly lessen the resort's plastic waste. It is projected that around 1,000,000 of these new amenity sets will be utilized in 2022 alone.
Okada Manila SVP for Hotel Operations Ivaylo S. Ivanov emphasizes that sustainability and luxury can and should go hand in hand. "Continuously reducing plastic waste has always been one of our top priorities, as we strive to be even more responsible members of our community. The new amenity line by Roberto Cavalli and La Bottega is a true statement that all types of luxury businesses can be even more environment-friendly, while continuing to deliver exceptional experiences to their customers. I would like to sincerely thank the brand Roberto Cavalli and La Bottega for our 5 extraordinary years of partnership. We truly hope that more and more hotels and resorts will follow, so we can all make an even bigger impact. With this step forward, Okada Manila would also like to encourage our guests to have a more environment-conscious travel lifestyle. We only have one planet and we should all play our part in making a positive impact daily."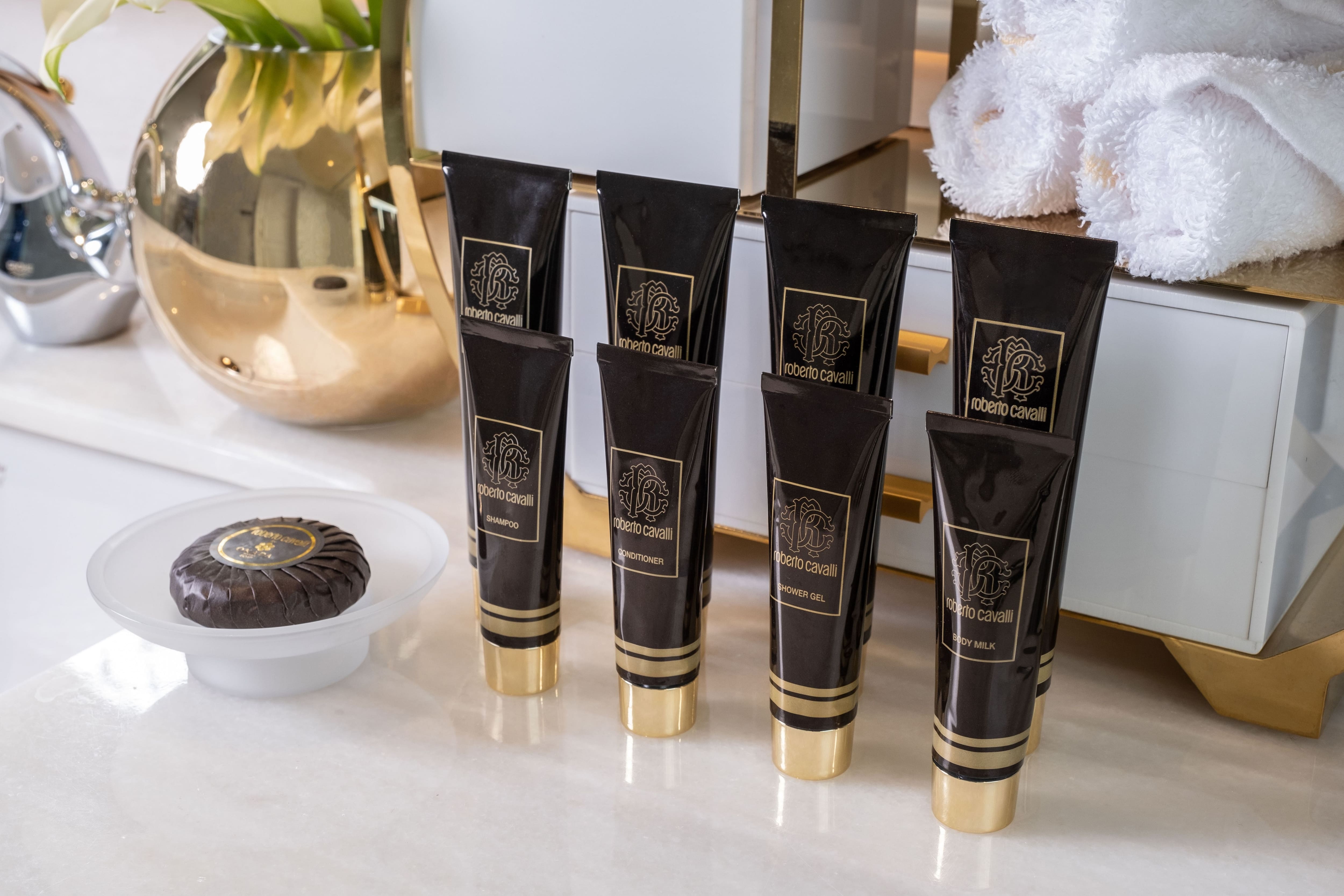 La Bottega's aluminum line of packaging is 99% plastic-free. Sleek, elegant, and functional, the line was designed with environment-conscious travelers in mind. The new packaging for Okada Manila is made of aluminum, the most abundant raw metal in the planet. It can be recycled repeatedly, without limits. La Bottega is strongly committedto the environment'ssustainability. The intense research into alternative materials, suitable for the world of amenities, has led the company to develop a new sensorial journey for guests, through a truly unique material: aluminum. La Bottega isdefining conscious luxury for the modern travelers by repurposing, upcycling, and recycling materials into innovative packaging.
Since the integrated resort opened in 2016, it has partnered with famed Italian fashion house Roberto Cavalli for its in-room amenities. Known and well-loved all over the world for their innovative, creative fashion and lifestyle lines, the signature Roberto Cavalli soaps, shampoos, shower gels, and body lotions are made with the highest quality ingredients and fragrances.
Roberto Cavalli is living an extraordinary moment of success, thanks to the new design and style course that the creative director Fausto Puglisi is imprinting on the brand. After joining the fashion house one year ago, his first collection for Roberto Cavalli named "Zero" has arrived in the best boutiques and department stores in the Fall of 2021 and is receiving the greatest appreciation from clients all over the world.
Photo from Okada Manila