Salt and Ice Is The Best Fancy Oyster Bar In Town
Craft cocktails and hefty meals make this a winner!
How can you make ice cooler? You add salt.
Science puns aside, Salt and Ice is ready to become your favorite oyster bar in BGC.
I thought this while attending the event welcoming pastry Chef Miko Aspiras into the Visum Ventures family held in Salt and Ice last month, as I scarfed into endless plates of oysters and bar chow, while surreptitiously people watching and drinking from cocktails in my own little nook in the full bar.
I can see the game plan of Visum Ventures (Koomi, Oh My Greek!, Zig, Meraki, Sante!) clearly. Take something everybody loves (cocktails) bring it together with something that isn't in BGC yet (oysters), make them excellent, give your customers an experience, but don't make it fussy.
It's a nice formula for a good time after a hard day's work, which for most of us – is self-care. There's nothing like a plate of oysters for yourself to make you feel alive, I say! And with a piece starting at P60, it's not hard to pamper yourself in Salt and Ice.
For oysters, I like mine fresh with just a dousing of vinegar or lemon, but I wouldn't say no to a cheesy Oyster Mornay, a crispy Oyster Tempura, or an Oyster Kilpatrick! All of which, Salt and Ice has and more.
Wait! What's an Oyster Kilpatrick, you say? It's an Australian recipe of baked oysters with bacon, barbecue sauce, and Worcestershire sauce. I've only had it in Salt and Ice, and since it's the only place I can have it without having to make it myself, this is a call to Universe aka you, the reader to try it. It's oysters and bacon—it's surf and turf in a bite! I suggest asking for less bbq sauce and adding some zaps of tabasco. A little birdie told me not a lot of people are ordering it—to that I beseech you to try it, dear, reader – it's excellent with a Moscow Mule, the Rogue Waves cocktail, or any of the beers.
There's more in the Salt and Ice menu than oysters though. Our go-to for bar chow has always been the Truffle Parmesan Fries- thick and crispy, so fragrant that people order it when it passes them. Other good eats for drinking with or eating before drinking (Salt & Ice opens at 4pm) include the Chicken Satay Skewers (ask for extra peanut sauce), Truffle Mushroom Arancini, and Wagyu Sliders.
If you're looking for an actual dinner, the menu has pasta dishes, several sandwiches, dessert, and even steak! Their best pasta dish is the Sea Urchin Pasta—lusciously redolent with the taste of the sea, thanks to uni and salmon roe. For dessert, you can indulge with a Ferrero Rocher Sundae or a lighter Chocolate Souffle, but I always order the Warm Sticky Date Pudding though. It's not a common dessert in Manila and Salt and Ice's version was sweet but not overly so, and even came with a scoop of ice cream.
There to drink? Their signature cocktails are from the brilliant brain of award-wining bartender, Abigael Quilal-lan, who is also Salt and Ice's operations manager. They have quite the list, but I am obsessed with three Salt and Ice cocktails in particular—Rogue Waves, Eternal Rose, and the Pandan Old Fashioned.
"Filipinos are getting more discerning and appreciate the artistry and hard work that goes into a cocktail. We are now head-to-head with bars in SG and Australia. It's not just getting drunk or drinking, but it's about appreciating the ingredients and craftsmanship. At Salt & Ice, food and cocktails are presented well that shows the skills and craftsmanship of our bartenders using quality liquors and the tools to concoct these drinks. They look good and taste great," said John Michael Hilton, CEO of Visum Ventures.
My surfing heart loved seeing the waves printed on my drink in the Rogue Waves, but besides that element—the drink itself was right up my alley—fruity and tangy with yuzu and slightly sweet with a tinge of spice and oak from the bourbon, and pairs nicely with fresh oysters, the Oyster Kilpatrick, the uni pasta, the fries, or the arancini.
The Eternal Rose might be a girly drink, but it knows what it is and embraces it. Coming to you underneath a smoky dome ala Beauty and Beast's eternal rose, this gin-based rose red drink is sweet, but not cloyingly so. It's always my first drink to get things going—my delicious and beautiful alcoholic punch, and it goes with everything in the menu, even dessert!
While you can get an Old-fashioned straight up, ask for the Pandan Old-fashioned. It's whisky smokey goodness with a hint of sweet pandan. Don't knock it until you try it, and it's best paired with the steak, wagyu sliders, and fries.
In the experience side of things, Salt and Ice has a laid-back vibe—cushy booths and a big sofa area at the sides, tables in the middle that get rearranged for groups, bar seating so you can talk to the bartenders, and a pandemic must-- an al fresco area. Interiors are dark, as bars are – with an illuminated Salt and Ice sign at one side and booths have leather seats. From late afternoon to about 8ish, it's more bistro-like for dinner and drinks, and by 9ish, lights get dimmed for a more intimate ambiance, while DJs play.
Oysters, truffle fries, uni pasta, and cocktails that are easy to keep coming back to—so you see? Salt and Ice is ready to be your favorite oyster bar in BGC.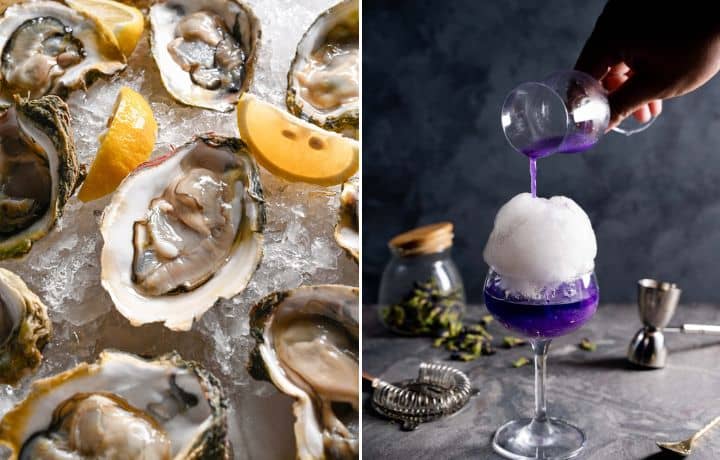 What To Order
What To Order