This Most Fab Seafood Restaurant Just Opened In Boracay
Sea.Food by Chele is a jewel in the dining destination that is Boracay. The food IN PHOTOS!
To be honest, I was incredulous that I was even heading here in the first place. A global pandemic does that to you. The airport, a place that usually conjures up waves of giddiness because of new adventures, seemed downright alien and a little freaky. But all the paranoia in me drifted away at the sight of Aqua hotel.
Just a few years old, Aqua is one of the newer hotels on the island. After the warmest of welcomes at the lobby, the first thing that grabs your attention is the pool area in the middle of the stark white buildings that housed our rooms. It is a sprawling area, with pools of different depths surrounded by deck chairs and palm trees, an open invitation to frolic.. and in the middle of it all, a landing strip-like walkway which lights up at night. I felt like an ugly Victoria's Secret model sashaying through.
My room for two nights was a huge one bedroom suite, with rain shower and a comfy bed, plus a plate of nibbles to tide us over. I hardly ate the whole day, and gobbled it up, causing me to enjoy the warm embrace of my bed a little too much. With just enough time to spare to freshen up, it was time for Round 1.
The Presidential Suite is baller, as expected, with its own full kitchen, dining room, living room, and …… infinity pool. Well of course, right?? We were greeted by the man of the moment, Chef Chele, and had a chance to meet his chef de cuisine in the island, a young Madrileño chef named Jaime Ramos. Plying us with cocktails and hors d'oeuvres, one had the sense that this whole experience was going to be epic... on the stomach.
Dinner by the infinity pool wasn't too shabby at all for an opening salvo. The idea behind the menu was actually a winning proposition: seafood dishes from all over the world – nothing bastardized, but merely enhanced. At the beach? Why not, right? It actually could've been Italian, or even Mediterranean, but delectable treasures from the sea just sounds more appealing. Besides, now that we were loosened up with different libations from top beverage specialists Jericson Co and David Ong of the famed award winning bar The Curator – a pre-meal strategy that certainly worked for this motley crew – we were ready to dive in headfirst. A barrage of little bites appeared on the table, and because a lot of us didn't really get to eat lunch, we went in for the kill. Seafood laced croquetas, a brilliant coconut prawn tempura, and pulled pork tacos vied for our attention, as well as kinilaw and pulpo yakitori from the live cooking stations. Quite a start to this marathon. Pacing is, of course, key in all things.. and we should've, because the next wave was tsunami-like: a smoked salmon salad (hooray for some vegetables!), a PERFECT sweet and sour lapu lapu (made with impeccable Chinese techniques), a grilled catch of the day in creamy bisque, roasted fall-of-the-bone lamb shank, and perhaps the most oohed and ahhed of all the offerings that night – a flavor bomb of a rice dish, topped with melt in your mouth lechon with the crispiest of skin. I had no idea pigs could swim, but they make the seafood of the gods in this dish. We had to retreat indoors because it began to drizzle, and that was where we had their Happy Ending – a "banana split" of caramelized banana with chocolate cremaux, chocolate chips, cookies and homemade strawberry and vanilla ice creams. By now we were almost over the edge, ready to take a trip to Lalaland.. until the slinky deep and soulful house beats started thumping from the speakers: lo and behond, Chef Chele became DJ Chele, mixing tunes from the decks and showing a glimpse of his past life as club owner and DJ in Spain. Who would've thunk? But to be honest, thinking was going out the window, as coconut tequila made an entrance, and some rump shaking began. That was a sign to make like a magician and disappear.
The next morning was as beautiful as we all could've hoped for. The sun was out, a slight breeze was in the air, and we were ready to play, donning our swimsuits and wading in the cool waters of the pool, chatting and just enjoying the moment. In retrospect, perhaps we should've run around a bit to get our appetites going.
Chefs Chele and Jaime sat us by the pool and bar, as we sipped tiki-type cocktails, sweet and strong. Loosened inhibitions led to boisterous laughter, until the entrance of what we were told would be a "light lunch" – a taste of poolside favorites remixed by the kitchen. We didn't have to eat everything, but what can I say? All the food was a flex for sure. Tiger prawn nachos were just an unstoppable force – nacho lovers will kill it. Spicy salmon salad and octopus satay piqued our curiosity, but all that munching needed to be stopped with the emergence of their poolside masterpiece: a riff on the famous Boracay favorite, the Choriburger. Chele explained that they took the flavors of the original, and made it restaurant style, with a thick pork burger in between a soft black bun. It tasted exactly like its predecessor, but better. Especially with fries. There also happened to be a brilliant seafood pizza creation of Chef Jaime, which we thought we couldn't possibly handle. But as Chef Chele pointed out, it wasn't heavy in the belly like a lot of pizzas, and we believed him. Dessert, naturally, wasn't as light as a feather as promised – an Oreo Chocolate Pie, and an intense dessert involving bananas, ice cream, cake and peanut butter. It was so not light that we drifted away to our separate caves to prepare for the main event: the unveiling of Sea.Food by Chele Gonzalez.
When evening came, we all slowly waddled in (presumably from afternoon slumber) for the big show, with our curiosities piqued. Everyone had the same thing in mind: the men were decked out in their formal chinos, the ladies in their summer dresses. A few cocktails later, some photo ops by the striking lit pool, and after a short speech by Chef Chele, and the doors opened for the big reveal. Designed by the innovative Ed Calma, the room is a contemporary yet still very relaxed space that evokes the beach and the ocean. Coral sculptures on top of light fixtures line the wall and soon the ceiling. To my untrained eye, the curves on the banquettes reminded me of sand, while pops of green and blue put the calming colors of water into the mix. This is a serious restaurant – a destination one, if I may say – in a sea of casual. Not to say that it is by any means stiff. Actually, it's the opposite – they made sure of it. That bit will be fueled by all the cocktails which make for perfect drinks for pre- and post-meal: tasty, refreshing, almost familiar yet with interesting twists. A wine selection by longtime Chele collaborator Cyril Addison is naturally on hand as well, leaning on approachable and (sometimes even unexpected!) drinkable wines that won't alienate the diner yet still make your tastebuds dance. The cocktails and wines are the perfect one-two punch to usher in all of the kitchen's inventive dishes. To open the palate, a trio of crudo dishes: a Peruvian ceviche, Italian octopus carpaccio, and Japanese tuna tataki, all washed down with a refreshing margarita. If they wanted to show off the freshness of their ingredients, this was the way to do it. Next came a lovely Singaporean chili crab salad – very generous in its portion, and a must, in my opinion.. as well as a classic garlicky gambas, and grilled shrimp tacos. All good, right? Well, then it got serious. An Indian fish curry was great, but oh my the most amazing seared squid with gochujang was one of the strongest dishes of the evening, paired with some Moet Chandon at that. At this point it was like we were on a world seafood tour, finally to land in Spain. An authentic, flavor-packed seafood paella made by Chef Jaime – I will say it's probably the best on the island – was another star, together with a gigantic grilled lobster with lemon butter and another favorite: a meaty whole roasted fish with garlic and vinegar in the Basque style. (This is the kind of fish you want to eat with garlic rice.. but that may sound a bit sacrilegious. Just sayin'.) I'm pretty sure they worked hard on their desserts, but boy. We were tapped out.
Sea.Food by Chele put on a show on the island that may be hard to top. It is the only restaurant with a famed chef's name attached to it, and it may be one of the few to have that kind of access to top notch ingredients. They honestly churn out delicious things, and is a welcome addition to Boracay's dining scene – a far, far cry from the "old days" expensive sub-par food. Is it "fine dining"? Maybe for some, but I would prefer to see it as contemporary, and simply excellent. See you guys there! (And go easy on the cocktails, ok?)
Check out the fabulous dishes in the gallery: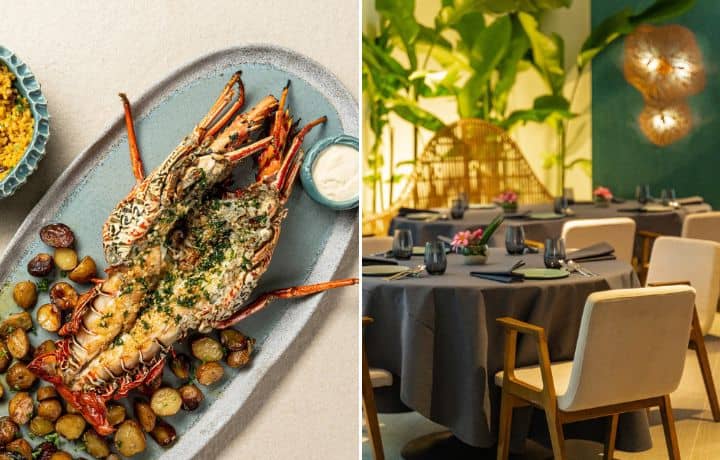 The menu in photos
The menu in photos