This Must-Not-Miss Collab Brings Back Sit-Down Dinners
Four nights. Eight courses. One amazing experience you won't be able to stop talking about!
Do you still remember what it was like to sit down for a four-hands dinner? Let alone a multi-course meal?
We're waxing nostalgic with pre-pandemic memories, so when we heard about the collaboration dinner between Makati favorite Your Local and lockdown breakout star Taste & Tell MNL, we knew we couldn't miss the Eight-Course Tasting dinner they're whipping up together.
One look at the minimalist menu and you'll know it's filled with promise, especially with young and talented chef Patrick Go now at the helm of Your Local, and the Chuateco sisters of Taste & Tell MNL — Pamela, Marika, Mariell, and Trixie — working together to bring the best of Asia on a plate.
While Chef Pat is no stranger to sit-down dinners with his stint at Black Sheep, Gochu Gang (at Power Plant Mall's posh food hall The Grid Food Market), and even at Madrid Fusion Manila, it was the Chuateco ladies' first ever dinner collaboration. Speaking with Mariell on the sidelines of the packed preview event, she shared they were excited to bring their ideas to life — ones that they couldn't offer with their delivery-only set-up at Taste & Tell MNL. It took a month to conceptualize the dishes they wanted to serve. Pamela (whom they fondly call "Pammie"), the youngest of the four sisters, is the culinary genius; while the three sisters provide research, feedback, and ideas to make their offerings better.
Curious about the upcoming nearly sold out dinner? Here's what to expect from the four-night-only affair. Click through the gallery below.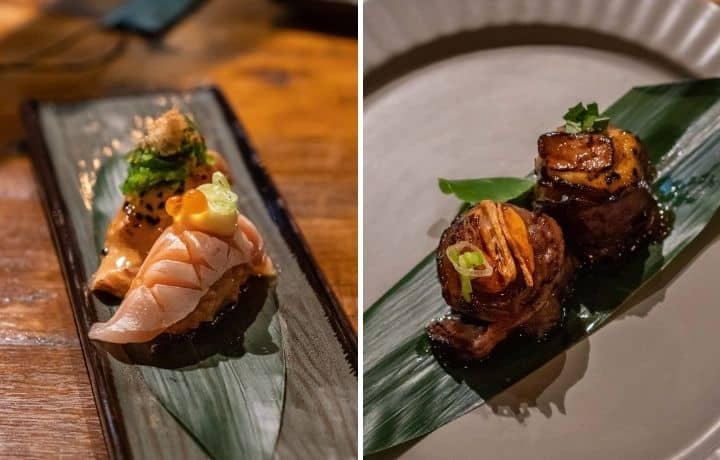 The 8-Course Tasting Menu
SWIPE LEFT OR RIGHT
TO NAVIGATE BETWEEN PAGES
Third course: Sake Nigiri
Fourth course: Kitayama Wagyu
Sixth course: Chili Blue Crab
Seventh course: U.S. Striploin
Eighth course: Kaya Matcha Tart
Final course: Black and White
Check out
Taste & Tell MNL
and
Your Local
to find out how you can book a table. Their March 31st and April 1st slots are already fully booked, but they recently added slots for two more nights, April 7th and 8th with two seating schedules (6-8pm and 8:30-10:30pm). For inquiries and reservations, you may also contact Taste & Tell MNL at 0909 982 7426.
Your Local is located at 108 Esteban Street, Legazpi Village, Makati City.