Inside An Abandoned Mansion That Is Now A Promising Dining Destination
A drive past the thick forest in Lipa, Batangas will get you to this scenic date place and its views
If Waze told you that there was a fine dine restaurant past the thick forest in Lipa, Batangas, you probably would think it was glitching. But since fortune favors the bold, you're soon rewarded after following the dirt road.
A white mansion emerges with a round signage that says, "Prism Restaurant Cafe". You have arrived at the latest venture of chef couple Grant Zuñiga and Aaron Valeroso. The road that leads to the restaurant is jokingly described by Zuñiga as the "full Taylor Swift experience", referencing Swift's Folklore album cover set in a forest.
Zuñiga and Valeroso started a cloud cafe out of their home kitchen in Pasay in April 2021. They sold flavored teas and fruit milk in delivery-friendly can-sealed containers. "After four months we were able to put up a small cafe in Villamor in Newport City," Zuñiga says.
Soon after, the couple chanced upon a dilapidated mansion in Lipa, Batangas that sparked inspiration. The mansion was built back in 2006 and had a 500 square meter footprint with a panoramic view of Taal Lake and Mt. Maculot. "We saw so many possibilities and opportunities with it. When we thought about it we both thought it was time for us to exercise and practice the things that we love in the restaurant industry since we're both chefs. Food is our main passion."
With minimal changes to the original structure, Zuñiga saw the advantages of this adaptive reuse. "Adaptive reuse is such a great way to preserve history, stories and memories. By converting the building into something new and useful adds a new layer of story to it. Also, for us, it was more cost-efficient than building from ground up."
The structure proved to be strong as there was very little sign of damage from the tremors the location often experiences because of its proximity to Mt. Taal. Zuñiga also wasn't too concerned with Mt. Taal erupting as back in 2020 he observed that there was more ash fall in Alabang than in Lipa.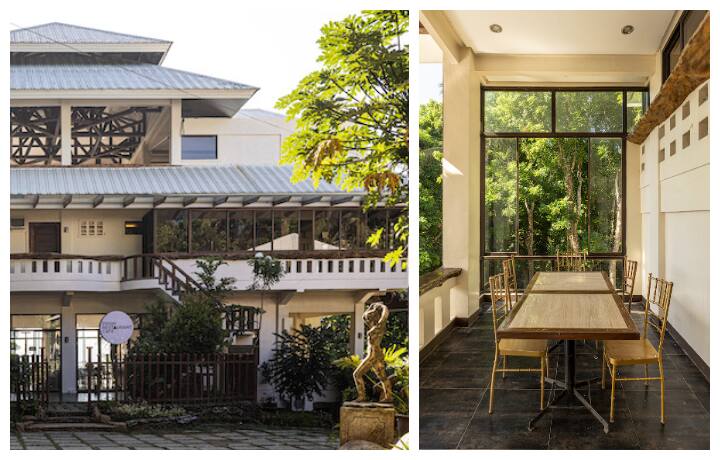 Photo Gallery
Photo Gallery
Zuñiga is enthusiastic about the place. He shares, "You know what's magical about this place? Sometimes you can see it raining in the lake but over here it's sunny."
The house was abandoned by its owner in 2014 for a smaller house in the compound. "The owner's antiques were left behind and this place looked like a set for a horror film. The chandelier was falling apart and what we had to take it apart piece by piece to clean it," Zuñiga recalls.
The chandelier now hangs in a bright double height ceiling in the main dining area. The structure is airy and bright, allowing the sun's rays to enter as it sets. White tablecloth cover the tables and prism-like glasses are set tilted on its side. The structure has many balconies which the restaurant takes advantage of for al fresco seating. "What's nice here is sunset. Sunset here is better than the one in Tagaytay because the sun sets on the other side of Tagaytay," Zuñiga adds. This makes late afternoon a more romantic affair with the restaurant's white sangria in hand.
Prism's menu has a mix of Filipino and European dishes that champion Batangas local produce. Their Adobo sa Dilaw Chicken Confit uses local turmeric. The Olive and Pepper Crusted Tuna features a Barako-dark chocolate jus. Batangas local prawns are used in their Gambas Al Ajillo. "Our menu is a combination of what we both love to eat. It's very personal to us. The pastas and the risottos with Italian influences are mine while Aaron contributed the Filipino, Asian and French dishes. It's a collaborative effort between the both of us. The basic concept of the menu though is to really highlight Batangas local produce while maintaining the things we both love," Zuñiga says.
Beautifully plated dishes like the Watermelon Sashimi taste as playful and colorful as they look. Slice of watermelon are compressed with beetroot juice to resemble fresh, bright tuna and is set on top of a subtle-flavored gazpacho of ginger, capsicum and pineapple. What looks like a black caviar topping is actually balsamic vinegar pearls. "This dish uses French technique with a little molecular gastronomy. We wanted something playful," Zuñiga explains.
The Alpine Raclette Cheese dish is described quite plainly on the menu but it is far from it when it arrives to your table. A plate with an arrangement of seasonal vegetables and fruits such as strawberries, mango, cherry tomatoes, sweet potatoes, edible flowers, fruit preserves and Cippolini onions are then blanketed with melted Raclette cheese. It's a different experience with every spoonful as you get the slight salty and nutty taste of the Raclette, the crunch of the Cippolini, and the sweet and tart of the fruits.
There is definitely something magical about this place as Zuñiga mentioned. It may be how it's off the beaten path, isolating you, nature and good food without all the noise. Just like with a magic show, don't blink. Keep your eyes on this place as something great is going to happen here.
Photographs by Jar Concengco