Patis Tesoro's "Mabusisi" Aesthetic Makes Its Way To The Mall
The grand dame of Philippine fashion's maximalist Filipiniana vision will be exhibited in SM Mega Fashion Hall
The Filipino word busisi translates to fastidiousness, while its adjective mabusisi means meticulous. In the arts and crafts, being mabusisi connotes attention to minute details. It also articulates a unique Filipino sensibility that permeates Patis Tesoro's embroidered textiles and fabric collages.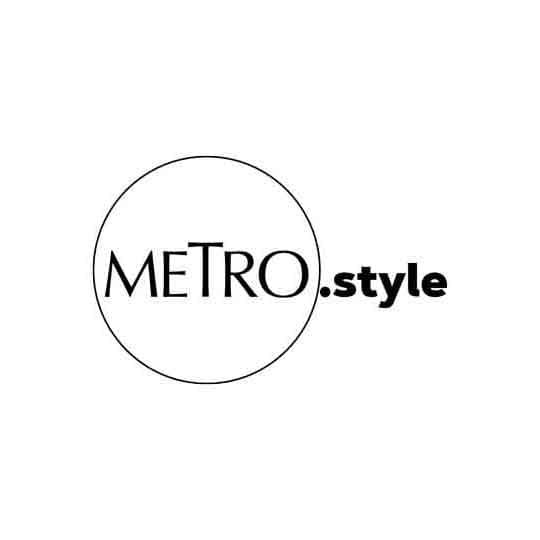 Patis Tesoro. Abaca material with organza backing, upcycled hand embroidery art work, 71 x 28 inches. | Courtesy of SM Malls
"Mabusisi" Living
In 2015, Metro Home and Entertaining Magazine had the privilege of being in the grand dame of Philippine fashion's bucolic, fabulously eclectic and distinctively Filipino home in Putol, Laguna. Barry Viloria writes, "The place welcomes with a house-for-rent cum antique shop cum restaurant and adjacent to it is another that houses her goods for sale—shoes, fabric, accessories, and organic products, among others—at the first floor, and eight beds for quick check-ins at the second. Both are replete with real vintage furniture that she has amassed over the years, the houses constructed in variously sourced antique wood based on a 'design from my mind.' Surrounding it is a garden showcasing plants that the lady also collects and nurtures herself, with her own place of recluse peeking within a short walk."
At the time of the interview, Tesoro noted that it took her thirty years to arrive at the home, garden and café with a look that is uniquely hers, best described as Filipiniana Maximalist, the very core aesthetic that translates to her textile collages in the exhibit Busisi, which will be shown to mallgoers from July 5 to 14, 2022 at Mega Fashion Hall in SM Megamall.
Tesoro delights her Instagram followers daily with posts that show her home's abundantly detailed corners: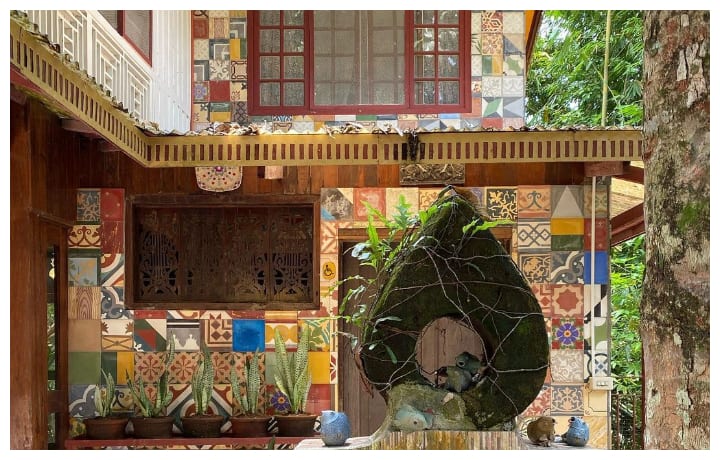 Photo Gallery
Photo Gallery
It has always been her love for the environment, as added by one of her loyal helpers Irene. Most of the furniture are "upcycled"—the process of converting material wastes into something more useful.
After more than 30 years of an extremely demanding pace in the fashion business, Tesoro moved to the more rustic setting of Putol, Laguna. Here she cultivated an environment which reflected her philosophy of harmonious co-existence with nature. "I don't throw away anything," Tesoro says, and this propensity for salvaging bits and pieces was evident in her assemblages from the shop's precious retazos (remnants of textiles).
"As time went on, I had a goal in mind if I kept at it. I just love planting. A garden is constant, it's like fashion, it's never the same. The fashion world is the same and somehow it's not the same. Like food, fashion is all about beauty, and for me this is about beauty and taste," Tesoro revealed to Metro Home and Entertaining via Viloria.
Conserving and Upcycling Indigenous Textiles
As a textile designer and prominent advocate for the promotion and conservation of indigenous and traditional Filipino fashion and textiles, Tesoro has worked with artisans in Kalibo, Aklan, where piña is still woven today, and in Lumban, Laguna to embroider piña cloth. In the 1980s, Tesoro was at the forefront of the production of piña-seda (a textile that combines pineapple and silk threads) and piña-abaca (pineapple and abaca fibers). She also admonished the use of natural dyes and the farming of plants that produce these pigments.
Over the last four years she designed tapestries that combined printed cloth, embroidered nipis. Unsatisfied with mere patchwork, she guided her atelier in the application of various surface decoration. Beadwork and obsessive stitching introduced texture on an otherwise flat surface. They also layered new forms over the existing patterns.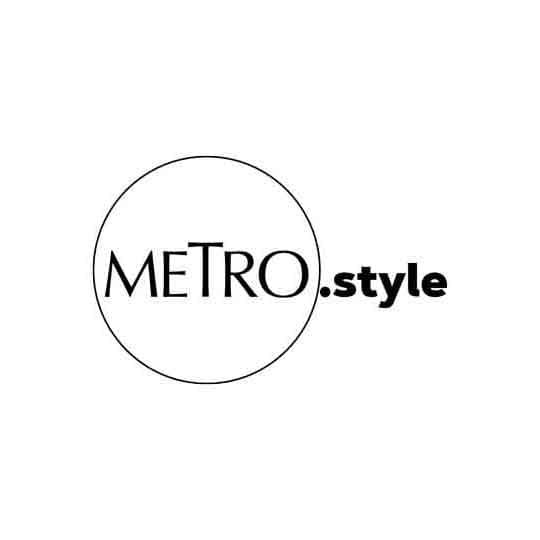 Patis Tesoro. Upcycled tagpi tagpi pina seda material and silk cocoon textile, 33 x 57 inches. | Courtesy of SM Malls
In contrast to the flourishes of traditional embroidery on piña cloth, Tesoro's compositions of the diaphanous material produced vivid geometric patterns. Pieces of natural, sepia, and black colored piña were combined to create checkerboard, argyle, and bricks – all reminiscent of 20th century pattern design. There were also references to the triangular linework of indigenous ikats.
While emphasizing the graphic compositions, the needlework also imbued the works with a more personal stamp. A hand embroidered flower or fern occasionally emerged to disrupt the repetitive motif. The rogue patches certainly belonged to a bolt of embroidered piña. Was it for barong or a traje de mestiza created in Tesoro's atelier? In any case, the tiny peculiarities contributed micro histories within the larger story of a tapestry.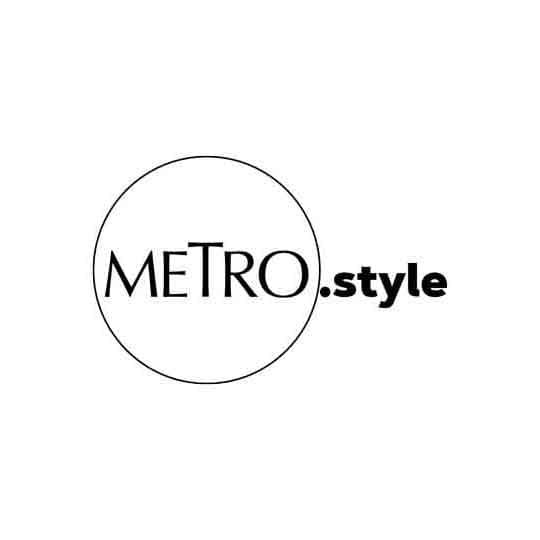 Patis Tesoro. Handwoven pina seda material kimono blouse in hand embroidered Mcfadden shadow work, 49.5 x 34.4 inches. | Courtesy of SM Malls
A joint project of SM in partnership with Finale Art File and curated by Gino Gonzales, the exhibition will feature a selection of exquisite textile art and intricate tapestries characterizing Tesoro's approach to graphic arts and textile design.
Busisi, which was first exhibited in Finale Art File in March 2022, is one of the many exciting cultural events at SM Megamall. Exhibition partners include Unang Panahon Arts and Antiques, SM Appliance Center, and HABI: The Philippine Textile Council.