Dimples Romana Talks About Her Third Pregnancy Journey
Plus, see photos from her beautiful bunny-themed baby shower
Dimples Romana is glowing. Clad in an orange dress with her hair down, the 37-year-old actress was all smiles as she greeted the members of the press at the virtual event where she was launched as Generika Drugstore's new ambassador.
Indeed there is a lot to be happy about. Dimples recently celebrated her 19th anniversary with her husband, Boyet Ahmee. Her eldest daughter, Callie, on the other hand, is studying aviation in Australia and will be doing actual flying in about two years, as shared by this proud mom.
Dimples also expressed her gratitude to her Generika family, mentioning that she doesn't accept endorsements that aren't in line with her values. "It's been tough for all of us. Wala naman pinili 'yung pandemya. Itong pandemya na ito, mapa ano 'yung estado mo sa buhay. Sa totoo lang, I was just telling my Generika family kanina na, sabi ko, ang sarap pakinggan ng salitang 'ginhawa.' Like when you say it, it means something deeper, more than just somehow pinagagaan lang. No, it's not that. It's really more na tuloy-tuloy na pag-aaruga at pag-aalaga."
As Dimples gears up for child number three, Elio, she shared her thoughts on becoming a mom to three kids from three different generations, her thoughts on her current pregnancy journey, and her gratitude to the people surrounding her:
"This pregnancy is quite challenging, in fact, the most challenging of all my pregnancies because Elio is so strong. I have never had a child so strong before. You know the many surprises of being able to bear a child, how beautiful the journey, noh? I always pray and say thanksgiving because it's something very, very true and dear to my heart. In fact, Elio came as a surprise. He was not planned. I guess the Lord has different plans for all of us.
"This time with Elio, I guess I'm more… I will tell you, I'm very afraid. I guess because marami na'kong alam du'n sa first and second pregnancies ko. Minsan kasi the more you know, the more scared you are. But you know, I find comfort knowing that a lot of people are there for me."
Speaking of people, Dimples also shared how supportive her family and friends are. For instance, her second born, Alonzo, is now so excited to be a brother to Elio and always expresses his care to Dimples and his brother that will soon arrive.
Her husband, on the other hand, has been sensitive to her needs. Dimples said, "You should never have unrealistic expectations of your spouses. We are also bound to make mistakes. We are always bound to change as people. In fact, it is encouraged, na magbago tayo bilang mga tao. If you're looking at forever when it comes to a marriage, dapat 'yung salitang 'nagbago' will be looked upon as something that is positive. You are supposed to grow.
"My husband will always tell me, funny, this is very true, though. Every time he wants to tell me something that he feels I will not like, he drinks water. And he keeps that water inside his mouth until he forgets what he was about to say."
Dimples also added how her showbiz friends, including Bea Alonzo and Angel Locsin, are so "aligaga," caring, and generous. She quipped, "Kung sino pa 'yung pinaka mga busy, yun pa yung mga aligaga."
Dimples Romana starred in the recently-concluded series Viral Scandal.
Check out the gallery below for photos from Dimples Romana's surprise baby shower, organized for her Bea Alonzo and Angel Locsin: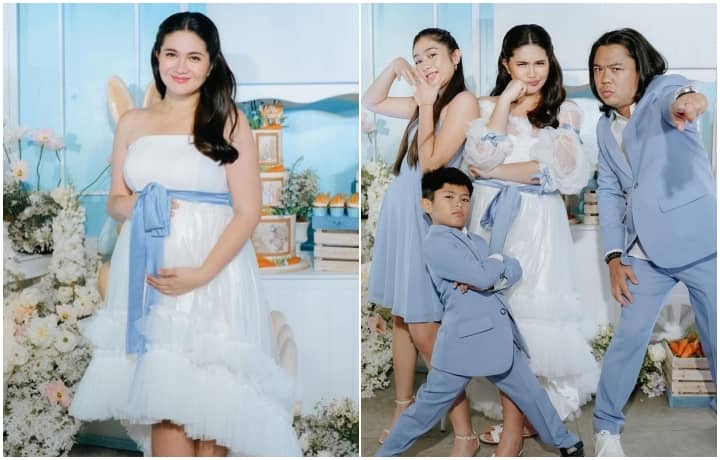 Photo Gallery
Photo Gallery
Lead and gallery photos from NicePrint Photo