Model and Entrepreneur Michael Seifert Ventures Into Fashion Design
Establishing his roots in the fashion industry not only as a model but also as a mentor through his boutique management agency TalentMan, German-Filipino Michael Seifert is now set to make waves with his newfound passion for designing
Model, entrepreneur, and TalentMan founder Michael Seifert is exploring another side of fashion that has been integral to his modeling and model management track. Now broadening his horizons through a new business, he's taking his knack for design and craftsmanship to another level.
His Filipino and modeling roots
Michael was born in Germany, but he's proud of his Asian & European heritage. Growing up in Manila, Michael was born to a German father and a Filipina mother. "Being German-Filipino is quite special to me because I've adapted German qualities in my work ethics, while my Filipino side comes out in my hospitality and passion to help others. I love how the cultures blend and have made me who I am today," he says.
He lived in the Philippines for 17 years, and it's actually where he started modeling. "I jump-started my modeling career in Manila and it's been great. My siblings and I grew up in entertainment in a way," says Michael, whose sister, Sandra Seifert, ventured into pageantry and was crowned Miss Philippines Earth 2009 and Miss Air / 1st runner-up at Miss Earth 2009 and is now a fashion designer for modest brand Suravilla.
Michael first modeled for a food brand's commercial when he was seven years old. He did commercials until he was 14, and then he joined the Professional Models Association of the Philippines (PMAP) which introduced him to runway modeling.
He recalls, "At 15, I started working for bigger designers that were quite established in the Philippines, as well as foreign brands that would fly in to cast models in Manila… At 18, I got scouted to start traveling as a model abroad and that's when I decided to leave Manila and embark on an international modeling career." Michael later found himself traveling to destinations like Hong Kong, Thailand, Singapore, China, Italy, and England for various modeling gigs.
Venturing into model management
Cultivating seeds in such a cutthroat industry is no picnic. To navigate the waters of the fashion world, one has to overcome one's fear of rejection and failure, and that is what Michael has mustered throughout the years of working as a model. "I heavily traveled and worked as a model ten years ago and it really was during a time when mixed models and diversity were not at the forefront yet," he acknowledges, admitting that he, too, has had his fair share of rejection as a model in the past.
The previous trend, according to Michael, was all about the classic, sophisticated look—blonde hair, blue eyes, and skinny physique. In essence, the surface-level attributes are given the most weight, and the model's worth is gauged based on their ethnic background. "I had a lot of castings where I would just really feel bad about myself, and feel insecure when I wouldn't be what the client looked for, and just not have that support system that I now provide for my models," he says. Michael, who has been running boutique management agency TalentMan (http://www.talentmanmodels.com/) since 2014, looks back to when there was a lack of proper and professional management among models. "I didn't really have that management back in the day where they would advocate for my mental health and tell me, 'Don't take these things personal. It's all about showing up, doing your best, looking your part, [and] studying the brand.'"
As a fashion aficionado who has flourished across continents and fashion capitals, Michael has evolved into a self-made model, manager, and a promising entrepreneur. As a talent agent and TalentMan's founding father, he aims to encourage, nurture, and embolden his artists to equip them for their professional endeavors. He explains, "TalentMan is a boutique management and placement agency. What I essentially do is I scout models, develop them, and help them achieve their full potential by opening more doors of opportunity through international agency placements in Paris, Milan, London, New York, Manila, Hong Kong, Singapore—essentially everywhere around the world where there's a booming modeling market on fashion industry."
As a model himself, one of the issues he has witnessed in his line of work is model mismanagement. He believes that it is best for artists to have an agency that advocates for them, especially in terms of their mental health and career goals. "I wanted to set an example by launching TalentMan and creating a platform where models felt safe, where mental health was also at the forefront, where their voices mattered, and where there was an alignment between their career objectives and goals in the industry with those that I envisioned for them in terms of unlocking their maximum potential."
Michael's agency has also embedded in its core the goal of promoting authenticity. "I always encourage our talent to be themselves, to embrace their insecurities and what they perceive as weaknesses because very often, it's in those little details—imperfections—that truly make a person interesting and memorable, and ultimately help set yourself apart in fashion," he points out. Michael's idea of more inclusivity and diversity is derived from the spirit of acceptance of one's authentic self. He continues, "I think we strive for perfection but it's really learning to embrace our imperfections that fully put us in tune with our full potential… I believe that everything aligns as it should and there's always a reason why things happen or why they don't happen. Sometimes, rejection is redirection."
He has worked on a global scale and met numerous fashion icons he looks up to, but Michael considers his father as his ultimate fashion icon and inspiration. His father's passing inspired Michael to pursue the fashion design route. "I think a lot of people get into fashion design to start a business to sell but my intention, really, was to have another outlet of me expressing my personality through my style and hopefully in the process, help other people discover their style and embrace their authenticity. My dad was a trendsetter back in the day and he was really known for his sense of style," he shares with pride.
Seifert, the name behind the fashion brand set to launch in September 2022, is Michael's means to cement his father's legacy. "My dad taught me to pursue all my dreams and not further procrastinate, because life is too short," he reflects. "So for two months, I was just designing and creating clothing for myself that people fell in love with."
His father, his driving force
As Michael launches a sneak peek of the first collection of Seifert, Michael pays tribute to his father for the legacy that he left behind. Beyond this, he also affirms his love for the craft long before his shot at a business. "I have a very creative mind and I felt the need to let that out of my creative system and somehow, fashion design was the way to do it—a childhood dream I've not had the chance to tap into until now." His thick experience, perhaps, is also a plus to his free-flowing talent. Having worked with top-tier brands such as Gucci, Calvin Klein and Dior, he says, "You just start to get a sense and a feel of what fashion is and what kind of materials/fabrics are best used to create unique, quality pieces."
For the materials, the sneak peek of his first collection will feature pieces in cotton, silk, and linen. Since these are meant for men who love to travel, it was very important for him to pay extra attention to the fit, making sure the pieces are wearable, versatile, and comfortable. He points out, "I definitely put a lot of emphasis on the materials, on the fit, and creating authentic peaces that people can mix and match because Seifert is meant to be one-of-a-kind, wearable, and exclusive."
Check out Seifert's campaign shoot, photographed in Bodyworks Spa Bali by Paul Sunga: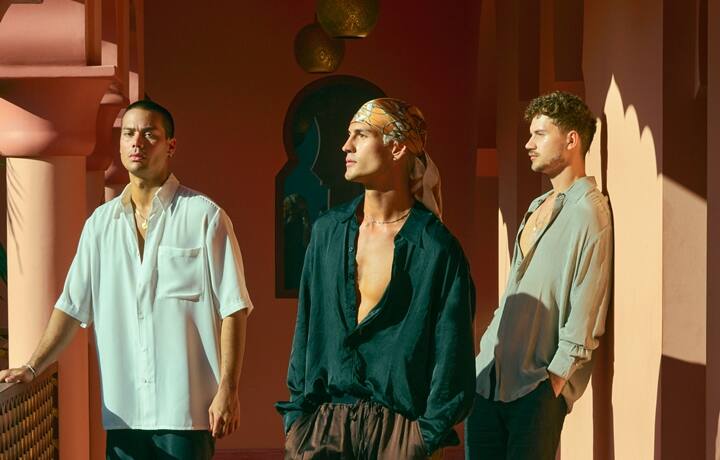 Photo Gallery
Photo Gallery
The campaign of Seifert's first capsule collection was beautifully showcased in a shoot in Bali by photographer Paul Sunga. The collection is made up of easy-breezy pieces for men that are minimalist yet visually delightful at the same time—button-down shirts, pants, and shorts in subdued hues and striking prints.
Michael explains the aesthetic of his brand, "I would say that my style is definitely a crossbreed between Tom Ford, Jacquemus, Acne, and Massimo Dutti. That whole flair is what Seifert's about. It's for someone with lots of travels—clothing that you can wear in Mykonos, that you can wear in Bali, that you can wear in Milan, in London, or in Manila. You can go to Boracay and wear linen pants, or you can wear a silk shirt to a special event. I definitely want the consumer to feel really chic, expensive, but also comfortable and confident."
Also part of the first collection sneak peek is a headscarf which he will explore more for the final capsule collection he's already planning for. "That's going to be the introduction to my capsule collection where I'm exploring scarves and prints as well. I think that they're very wearable—a great accessory for any man and any woman."
Ultimately, Michael says, "You don't really need, in the end, a hundred pieces in your closet, but you could have 10 or 20 pieces in your wardrobe, and everything can be quite wearable. I'm an advocate for the environment, therefore Seifert aims at promoting slow fashion, helping people make more conscious decisions in shopping, encouraging pieces that will be wearable for many years to come."
And that's what Seifert's pieces are meant to be for—they're timeless staples that can be worn repeatedly and still look stylish each and every time.
For updates, follow Seifert Label on Instagram. For Pre-orders, email seifertlabel@gmail.com, or message via Whatsapp +4917631244211 or Instagram DM @seifertlabel. Website: coming soon.
Campaign photos by Paul Sunga
Special thanks to Akasha Schulze-Boysen and Bodyworks Spa Bali