Have A Moment Of Relaxation This Valentine's At The Nobu Spa
Celebrate the month of love with a quick, relaxing getaway within the city!
Don't you sometimes wish you could immediately teleport to a relaxing out of town vacation in the midst of a busy week? While most of us have to wait for a long holiday weekend to come around, there is a way to de-stress, get pampered, and spend much-needed quality time with your beau in the city. This love month, we're urging you to take a quick escape at Nobu Hotel Manila, where they are currently offering a special Valentine's 'Moments of Relaxation' package.
If you're not simply settling on a romantic dinner, going for a spa day is a great way to spend the day. You won't just be able to bond with your beau, you'll also tend to your own relaxation needs—something that needs to be done STAT. We recently visited Nobu Hotel to try the 'Moments of Relaxation' package for ourselves, and boy did we enjoy.
Our Experience
It was a Sunday afternoon, and our tired bodies badly needed a massage. We excitedly headed to the hotel, ready for an afternoon of nothing but pure bliss. The Nobu Spa is well-lit with natural light, with floor to ceiling windows that showcase the hotel's shared pool with its sister hotels—Nüwa, and Hyatt Regency at the City of Dreams Manila. At the end of the hall is the hotel's full-service gym, for those who want to work on their fitness.
We were greeted warmly by a lovely receptionist, who asked us to wait by the lobby's seating area, while our room was being prepped. Two therapists came to fetch us, and brought us to the couple's room. They proceeded to show us the facilities, the lovely box of roses already in the room, the disposable underwear and shorts, and robe we were to change into, and the area where we could settle down and enjoy some fresh fruits and a smoothie.
After a few minutes of settling in, the therapists will ask you about your preferred massage intensity (soft, medium, hard), area of focus in the body, as well as preferred massage oil. After which we found ourselves face down on the massage bed, being given a full body Barako coffee scrub. In long as well as circular motions, the therapist rubbed the ground coffee mixture on our skin, allowing dead skin to be sloughed away. It was a relaxing, rejuvenating experience in itself, but we warn you to not fall asleep this early in the treatment, as you will be asked to get up and step into the shower to wash away the coffee grounds.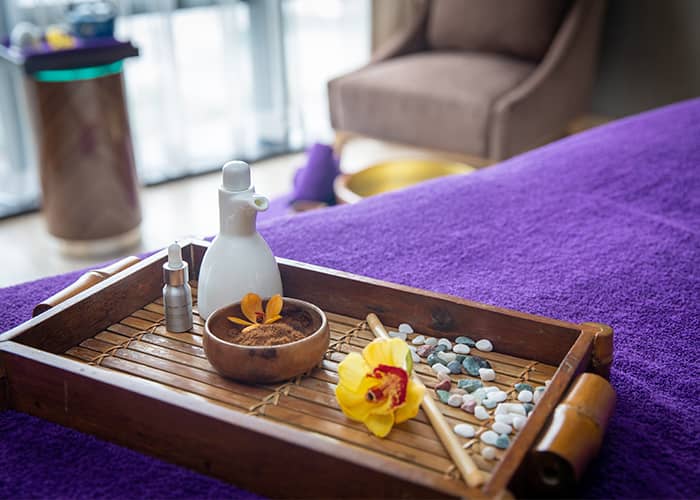 Nobu Spa Experience
Nobu Spa Experience
After the quick shower, we were asked to head back to our beds, in time for our Renewal Massage, which was basically a relaxing Swedish massage done by these highly-trained massage experts. Every massage stroke was pure bliss—relaxing our tense, tired muscles. It's quite hard not to fall asleep but we tried our best not to, in order to enjoy the entire process. After 1.5 hours of relaxation, we were treated to fresh ginger tea and some dried fruit, to close the session.
Nobu Spa offers two packages this month of love: "Romantic Indulgence I" (P10,800), which consists of a box of flowers, 30-minute coffee scrub, and 60-minute Renewal Massage, and "Romantic Indulgence II' (P15,800), which consists of 30-minute coffee scrub, 60-minute Renewal Massage, and 30-minute Express Relief Facial, and a glass of red wine and box of flowers.
Guests of Nobu Spa can book appointments from 12nn – 9pm. For inquiries and reservations call 8800-8080 or e-mail guestservices@cod-manila.com. For more information, visit www.cityofdreamsmanila.com.