10 Cozy A-Frame Retreats To Consider For Your Next Adventure
Oceanside, lakeside or mountainside, these vacation homes are as fun as they are cushy
Many who are familiar with the Instagram account, @cabinlove have definitely seen the A-Frame house. This residential archetype is seeing a local renaissance in the form of vacation homes and Air BnB's.
A photo from @cabinlove of an A-frame designed by Yana Prydalna (@yana_design_home) paints a very enticing picture: intimate interiors with slanted walls finished in warm wood, textural beddings swathed generously on a bed that can easily fit two, flanked by tree stumps that serve as side tables, all on a geometric-patterned carpet in warm neutrals. This snug universe is separated from the great, wild outdoors by nothing but a thin sheet of triangular glass. Talk about adventurous sensuality that exudes serenity! It's enough to inspire the urge for friluftsliv.
In the US, this type of architecture saw its popularity in the in the post-war years, mostly from the 1950's to 1970's. In the book A-Frame by architecture historian Chad Randl, he writes that "the letter 'A' was the architectural letterform of leisure building in postwar America." In this economically booming area, the A-Frame was produced by numerous builders and developers as vacation homes, thanks to its structural efficiency and its affordability. Build-it-yourself A-Frame kits became a huge trend, making it accessible to many who wanted to build second homes. It became somewhat of an icon for modernism, vacation and leisure, with Fisher-Price even making a doll house version for children.
https://www.pinterest.ph/pin/10696117855801911/
The A-Frame structure has existed for many years before its peak popularity. Pre-historic Japan has seen these structures. Some may even argue that the Philippine bahay kubo has a similar form.
By definition, an A-Frame is a building shaped like an equilateral triangle. Its distinctive feature is its peak, which is achieved by joining its rafters and trusses at the top. These are bolted to floor joists at the bottom, resulting in slanted walls. Horizontal collar beams stabilize the structure, creating its distinctive cross-piece. Its shape presents a great opportunity for a loft at the top. Most often, this functions as the bedroom. Without the loft, users of the space enjoy high ceilings.
Locally, the A-Frame is having a moment as ocean, lakeside or mountain retreats. Plan your next big summer adventure, and include a cozy A-Frame stay in your schedule.
See the gallery below for Metro.Style's picks: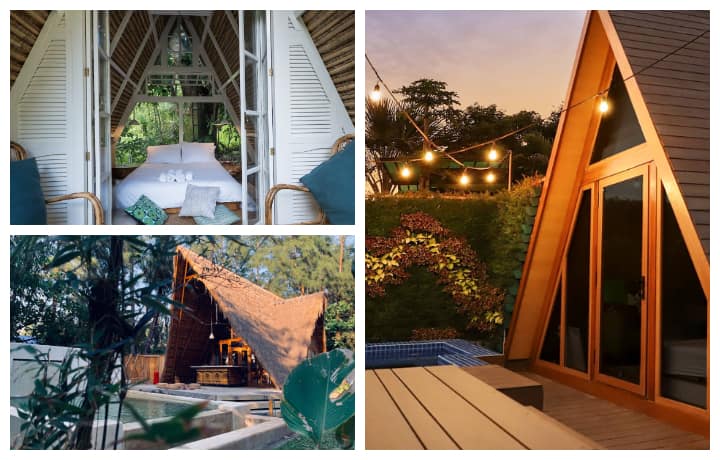 Photo Gallery
Photo Gallery