This Scenic Cabin Is A Love Letter To Mid-Century Modern Design
Stay in this Airbnb property to revel in its gorgeous views while cocooning in a transportive work of architecture
It's booked through the end of the year, and for good reason. This 2-bedroom cabin overlooking views that boast of rolling Nasugbu farmlands, the peak of Mt. Batulao and Balayan Bay has more than a panorama to offer. You may have already seen it from Instagram posts, and the coverage it enjoys from vloggers who extol its many virtues.
This Airbnb property hosted by Camper and Cabin is a veritable love letter to Mid-Century Modernism. For years now, this style of architecture has been enjoying a good revival due to its practicality, clean, straight lines and its familiarity. Mid-Century Modern has been around long enough for it to trigger a sense of nostalgia. The term "Mid-Century Modern" refers to the design trend born out of the mid-twentieth century when the times called for functionality. Homes were meant to serve a family unit's needs, and design rebelled against frills of generations past that were deemed unnecessary by the middle of the twentieth century. Instead, a more linear, pragmatic and simple architecture was favored in order to embrace a modern and organic lifestyle.
Sounds like we can all live in this design? Look no further than Camper and Cabin, Cabin number one. Definitely more than a cabin, it is a full home, complete with a pool where you can perch to enjoy the view. "Its unique terrain and elevations allow guests to embrace fresh mountain breeze and cool weather practically all year round," its description in Airbnb says.
Designed by Dennis Chan Canonizado, an architecture graduate of St. Louis University, this Air BnB property is finished in a combination of warm wood and concrete, the two materials complementing each other in a Japanese-Scandinavian symphony. Among the many recognizable modern furniture hits in the property are the Eames Elephant, the Yanagi Butterfly Stool, the Nelson platform bench and the Eames lounge chair and ottoman, making fans of this design moment seek a stay in this sought-after property.
Resting on top of a hill and encased in glass walls, the rental cocoons its guests, but also compels a meditation on its surroundings. In his interview with David Celdran's Executive Class, Canonizado admits to looking for the perfect perch for this project, considering lots in nearby Silang and Alfonso, and finally settling on this Calaca property.
You Can Book A Camper, Too!
Camper and Cabin also hosts guests in the first airstream accommodation in the country. In contrast to Cabin 1, this experience is something of an adventurous retreat, dressed in chic, crisp linens. Amenities include a queen size bed, a couch that doubles as an extra bed, a flat-screen TV, A/C, private parking, outdoor dining and grilling area and a kitchenette.
Best of all, the toilet and bath are situated away from the camper, heightening the sense of adventure. You get there by walking down stairs that lead you to an underground oasis of a full bath and toilet, perfect for those who are not all about showering in tight, crammed spaces.
The reviews speak for the property. "Our two-night stay was transportive, allowing us to break from our devices and screens…. We instantly fell in love with the design that makes the most of the climate and the natural beauty," Claire, a guest, commented.
See the Airbnb in this gallery: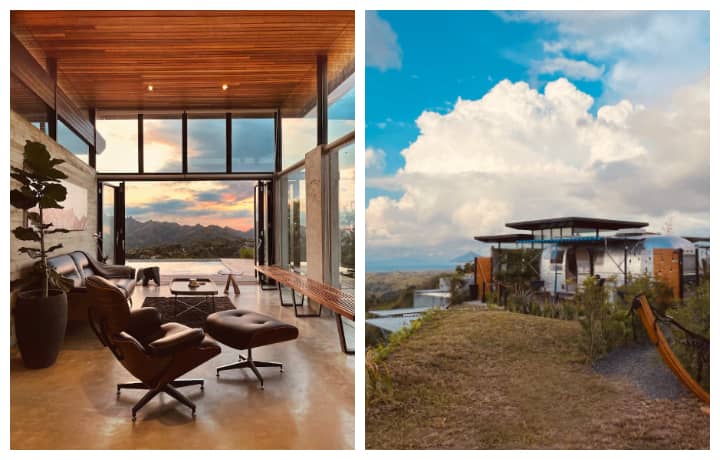 Photo Gallery
Photo Gallery
Book your Camper and Cabin stays here.