This Minimalist 6-Unit Concrete Multi-Family Home Costs Only PHP 1.1M
Carlson Chan, founder of Sine Pop in Cubao, builds this stylish brutalist company dwelling with just the supplies sourced from a local hardware store at Imus, Cavite
There is something alluring about this minimalist concrete structure with bamboo and gravel hardscaping. It's raw but it's a great blank canvas for the imagination. It's 5 minutes from a mall and only a 7 minute walk to the owners' place of work. It's hard to believe then that this house and lot cost only PHP 1.1 million.
Carlson Chan, founder of the boutique cinema Sine Pop in Cubao and managing director of his family company, has built 6 units of low cost housing for their employees in Imus, Cavite. "I've been reading books on urban planning and they're talking about infill development," Chan says.
Instead of a mass production of low-cost housing in a large lot area, infill development targets unused or underutilized lands in existing developed areas. This makes it possible to create pockets of low cost housing nearer to one's work, school or other conveniences of a city. When one thinks of low cost housing in the Philippines, one rarely feels inspired. These developments usually are far-flung in remote locations with little thought to how its residents will go to work or raise a family.
The house sits on a 45-Sq. M. footprint with a 62-Sq. m. floor area. "When we were designing, we followed what we did with Sine Pop, and sourced only what we could buy from our local hardware store in Imus. We also did some value engineering. We could have made it cheaper by making it into a condo or an apartment, but since the lot prices weren't so expensive, and a price of a single house unit didn't stray too far from a price of a condo, I asked our employees what they'd rather have. They said they'd rather have a house," explains Chan.
Chan surveyed the needs and preferences of the employees and reflected these in the housing. The residents wanted the house to be concrete as this can withstand typhoons and is meant to be their forever home. Their walls are a sturdy 8 inches thick. Large operable windows on both ends could be opened allowing the breeze to cross ventilate the home eliminating the need for bulky air conditioners. "The residents also agreed to not have paint for lower maintenance. And there is also no drop ceiling," Chan enumerates.
The bathroom is also open to the sky, allowing for more natural ventilation and has a built in planter containing bamboo. There is a sculptural, exposed concrete staircase a small kitchen area.
One thing that the owners didn't have to do was to go through the tedious and stressful process of building. "The homeowner had no risk with this house. You shop around for a good contractor, and I think everybody [who goes through building a home] goes through that. The first contractor you meet turns out not to be a good one. Leading to an escalation of costs. Here, they didn't have to go through that tragic process," Chan explains that they worked with a contractor their company works with regularly.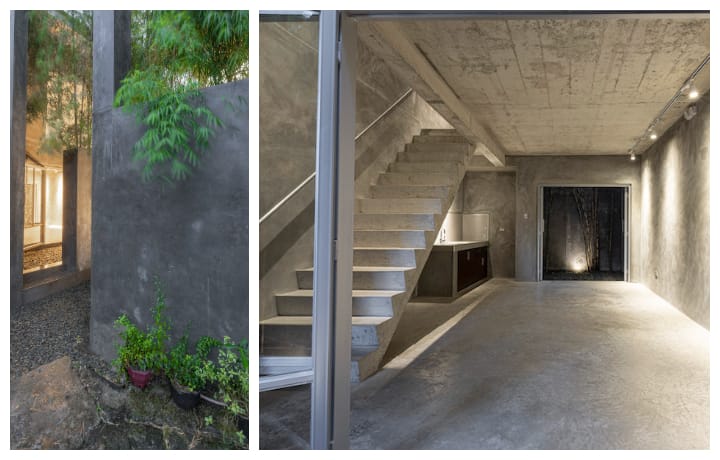 Photo Gallery
Photo Gallery
"Normally, if they're going to build on their own, they didn't have to engage with a designer to think about all these things. So that trial and error process - which is a reason why costs increase - is eliminated. Our build here reached to PHP 800k."
Owning a home fosters a stronger sense of community as residents aim to stay more permanently as opposed to someone who was only renting. According to Chan, owning a home also laser focuses one's priorities. "Being a home owner changes your buying patterns. Before you'd spend on useless things. When you own a house, you focus on amortization."
Photographs by Jar Concengc0