See How The Home Buddies 'Mayora' Renovated Her Space For Optimal Lighting
Frances Lim Cabatuando's Nobi Home believes that the home should evolve and change as its inhabitants grow
Frances Lim Cabatuando, founder of wildly popular Facebook group Home Buddies (currently at 3.1 million members), believes that your home should grow and change as you do. She aptly named her home Nobi Home - derived from the Japanese word nobimasu meaning to grow or develop.
"Nobi Home has always been my ever-growing home. I always say that I intend this space to grow with me so as my life changes, it also changes. But now, after the two years of the pandemic, my life has changed also. I'm not unemployed, but I'm not in corporate anymore. I used to be in advertising. Now I'm a TV Host, under a talent management called Nyma, and I also do content creation and events hosting. That needed a change in my home because I'm not always at home anymore to fix the smallest details. So I had to make it more sustainable. It should look nice even though I wasn't there all the time to fix things." Cabatuando explains.
She embarked on a 3 month renovation of her 38 square meter studio unit with Interior Designer Chelsea Yambao of Arcanum Design Studio. "The first thing I told my interior designer was that lighting has to be consistent throughout the unit. Before, I would only shoot content in the morning because of the light. At night I couldn't shoot anything anymore. Now that I have work outside in the morning, when I come home I can't do any other content. So I had to really fix the lighting. That was the most important. If my budget will require a lot for lighting, I told my interior designer, 'it's ok'. I will sacrifice other things for lighting. It meant productivity," Cabatuando says.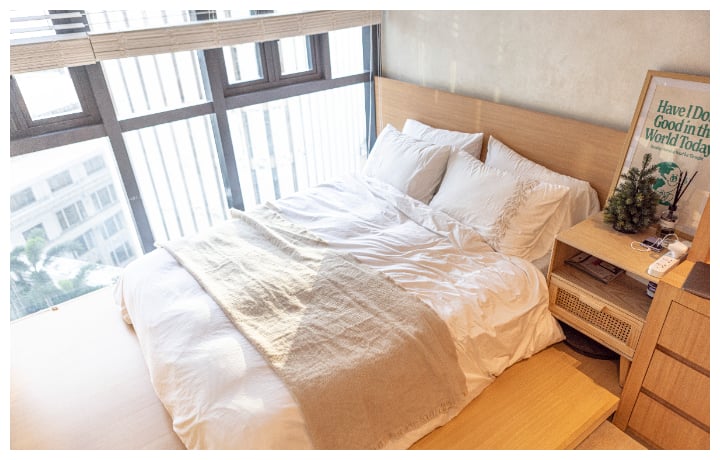 Photo Gallery
Photo Gallery
The unit features recessed lighting all throughout to ensure an evenly lit space. An Isamu Noguchi pendant lamp hangs in the middle of the unit. Made of washi paper, the lamp diffuses light creating only soft shadows. "I also wanted dramatic mood lights or lights that highlight certain areas," she turns on the LED lights behind her television using an app on her phone. There are also LED strip lights behind her bed frame imitating the feel of a nice hotel.
Her bed sits on a platform by the window and catches whatever sunlight that enters her north-facing unit. For this reason, she has opted for blinds instead of curtains this time around. "The reason why I changed from curtains to blinds is because I had learnings. If I had curtains, and they're always stuck to the side, it will block the light. So now that it's blinds, I get to maximize my entire window. These were my observations. My interior designer was trying to suggest curtains because they were softer and felt more Nobi Home. The light comes in for only a few minutes from the side. So if I had curtains, it would get blocked. Those are the things that you will only know if you really spend time in your home."
Being the founder and moderator of one of the largest FB communities on home improvement in South East Asia, Cabatuando always gets inquiries from people who want advice. "Whenever people message me asking me for suggestions on designing their new homes, I always say don't touch it yet. Accept the unit and live there. Understand your flow, the space, your lifestyle and the light that enters first." This piece of advice can provide helpful information for architects and interior designers that you are working with to design a space that is specifically bespoke to your way of life.
The built-in shelving system at Nobi Home includes a desk for working and a cabinet for Cabatuando's clothes. Strategically placed near bathroom and her full-length mirror that she designed with Lamana, the cabinet is slimmer than conventional ones as it doesn't follow the width of a full hanger. Instead, clothes hang facing outwards. This simple solution gave way for more hallway space allowing for furniture and larger appliances to pass through.
The bathroom and kitchen are the only places where there are pops of color - the kitchen has mint green cabinetry and the bathroom is finished with teal tiles from Gustofil.
The island in her kitchen serves as counter space for cooking and as her dining table. "So really the assumption here is it's not for a handaan (party). It's for someone living alone. You don't care too much if it's messy because you're by yourself. It's fine. I'm not good at cooking. I just cook to survive," she laughs.
Tips On Hiring Your Designer Or Architect From The Mayora Herself
When searching for an interior designer or architect in designing your home, Cabatuando has a couple of tips. "The first thing to look for is their previous work. That's how you know their taste. Designers are trained in school but their practice will always gravitate towards a certain style. So even if everyone else says 'magaling itong designer, kunin mo ito' (this designer is good, get them), but you see that their work is mainly French design, maybe that person isn't the best to design something like a minimalist home. They can probably do it, but they would have a different set of preferences, tastes or exposure. Even the suppliers they are in contact with may be limited to your style."
"Second, hang out with your interior designer even outside of work. Chikahin mo (Chat them up). Break that client-interior designer relationship so you can be more comfortable in bringing up more difficult tops later on. Less barriers mean less inhibitions. If it's easier to say what's on your mind, you'll have less problems in the process. Sometimes it's hard to say what's on your mind because it's design and they're the experts in this field - you don't want to hurt their egos or feelings. But if you become friends or at least made the partnership lighter, it will be easier."
Photographs by Jar Concengco