The Ito KISH Café Is That Pocket Of Serenity You'll Keep Wanting To Experience
Ito Kish transforms a warehouse into a tranquil café with the help of a strong narrative from his hometown and some suamei plants
Manila's resident visual storyteller, Ito Kish has just opened a cafe. When this design master does something, you can be sure that it's not only something aesthetic, but it brings with it an experiential flavor, something to remember days after you've seen it. You may even want to keep going back.
To get to the café, one has to know how to get to the KISH shop, which is unexpectedly nestled in a warehouse complex a stone's throw away from a gasoline station in Makati. "Drive to where the plants are," the guard at the gate will tell you.
When you find it, there are no grand entrances expected of an iconic retail spot for a respected home brand. Instead, you enter through the side where quiet text on the wall greets you with a simple but warm and tender "How are you today?" Once you get to the door and upon entry into the building, you are met with dramatic darkness. The first part of the experience is an exhibit of a neighborhood from Kish's travels from which objects that spoke to the designer during the trip are shown in a curated display. The last time Metro.Style was there, the exhibit was on Dubai.
Automatic doors then usher you into the KISH retail experience made for people who love beautiful objects mingling with select furniture pieces: some that traveled from miles away, laden with history, and some new, but hand-crafted, designed by Kish himself, and recognized with awards. Those with a curiosity for design are welcome here. There are books on women in architecture, cuisines of different cultures, gardens and design personalities. In the KISH universe, these all co-exist in a carefully put-together, curated haven which is held together by a narrative.
These days, those who come to KISH can even book an appointment in the Ito Kish Café for an intimate coffee experience under suamei trees, a variety of the jasmine plant (water jasmine, specifically, or wrightia religiosa ) that were made popular by Japanese architects in South Korea. So what made Ito Kish think of these trees as a design element?
"So for me, I really wanted to open a café [even back when we were in] Reposo. There was a part of the shop that looked like a garden, and that's where I was supposed to put up a café. It didn't happen. Back then, there were no cafés dedicated to third wave coffee. It wasn't a thing yet. So when I decided to open this, it was even more challenging: How to differentiate yourself from the rest of the cafes," Kish reveals.
Years in planing, the café is another narrative that, for Ito Kish, all started with San Pablo, Laguna, his hometown.
"Originally, we started with a concept. I'm a storyteller. I decided to trace back to where I come from, in Laguna, my hometown. To drink coffee in the past was very simple: you boil water, put a teaspoon of granules of coffee, Nescafé or whatever it is we had at home. You mix it, you go outside the house. Sit outside the tree, sip coffee and eat your panederia bread. Before there [were fancy bake shops], there's panaderia. It was really the simplicity of coffee. As simple as that. It has nothing to do with world class coffee shops. It's really the ambiance of having coffee under a tree. The simplicity of it," he underscores.
Thus, expect no fancy art latte in the Ito Kish Café. Instead, a calm ambiance tempered with the faint smell of jasmine, and the dance of the graceful suamei branches with its silhouettes provide a transportive experience that is hard to label. The place almost has a meditative quality, enriched with a poetic display of the suamei trees' organic architecture. Being in the Ito Kish Café is a testament to the healing, restorative power of nature.
To have the "coffee under a tree, the way it used to be" concept enfleshed was no simple task, but through a combination of strategy, luck and the persistence to tell a story. "So I said there's no tree that would survive. Your options are: you have a tree inside, but you will always have to bring it out every time you close. To accomplish this, it will take about four people to carry one. We'd go crazy. So the second move was to push the gate of the entrance. We covered it with another wall. I went online to research trees, and I ran into an online seller which said that these trees required very minimal maintenance," Ito Kish shares.
To enhance the trees' graceful look, Kish decided to put some of them on metal stands in order to add height. But this combination of organic and manmade design had its fair share of challenges in the beginning.
"I had six of those metal plant stands made. I was in Cebu setting up for Curated Home when I got a call from the guys here in Manila saying, "Sir, mukhang hindi siya stable." The intention was to really make it stable while looking organic. We temporarily put those fake trees. Noong pinakita sa akin yung picture, I was still in Cebu. Hindi ako makatulog. Hindi maganda! I went back to Manila on a Thursday at 5 am. I went straight to the café, and I said, 'Pangit. Hindi Pwede.' And so that's why some of it ended up on the floor. The other [metal plant stands] had to be stabilized by putting them against the wall, or against furniture. Everything happened for a reason. The first three weekends, we weren't putting [the trees] out [for sunlight]. I kept praying, "Lord, sana hindi mamatay." When we open every morning, it smells so good because this is from the jasmine family. It's surviving! Until now, we've never brought them out. And they're growing! It also follows the concept of 'under the tree,'" Kish narrates.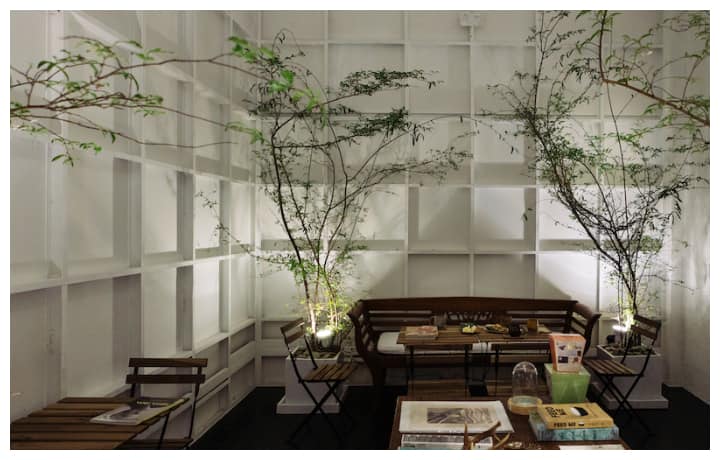 Photo Gallery
Photo Gallery
When one follows the height of the suamei trees with a gaze, its expression knows no bounds as it elegantly arches to the ceiling, while its leaves fall on the ground, making the former warehouse space look like a park blanketed with a spray of spring leaves. Psychologically, they make the space feel cooler as well, the perfect backdrop to enjoy the Ito KISH Café menu which offers four types of coffee. Try the Sisang, a tribute to Ito's grandmother who used to make nata de coco when he was young. "My Nanay Sisang is a hero for me, having raised six women single-handedly after the war. All college graduates. All educated. Single-handedly," he proudly proclaims.
In the Ito KISH Café, sip coffee underneath poised suamei trees accompanied by a curated playlist as you nibble on a pan de coco which was made by a neighborhood baker, and pause from all the world's concerns. For a simple café experience, it's one that will surely rejuvenate you. You'll know its effect once you head back into the traffic. You'll then want to go back to experience this undisturbed oasis in the city.
Ito Kish Café is open on Friday to Sunday, 10 am- 6 pm at 1120 JP Rizal, Guadalupe Viejo, Makati. Book your appointment by sending a message to @itokishcafe.
Photographs by Paola Aseron