Where You Can Get a Tiny Fluffy Pup of Your Very Own
K-fever is truly everywhere these days, from the dramas we watch to the pets that have captured our hearts
Over the past decade, premium pet shops specializing in pure-bred pups have taken over South Korea, with some of their biggest celebrities even purchasing their own furry little loved ones from shops like BabyMong, including Son Ye-jin and her Maltese named Kitty. Other Korean stars, like Park Seo-joon, Song Hye-kyo, and Park Min-young, are also proud parents to their respective furbabies, all Bichon Frise: Simba; Ruby and Ogu, and Leon.
As K-fever continues to take over the world (and the Philippines in particular), so have pet owners with a desire to have one of these tiny, fluffy pups for themselves. Breeders for these puppies—teacup or otherwise—have been on the rise in recent years. One such pet shop in South Korea, Pretty Bubble Dog, services clients here in the Philippines, from their headquarters in Cebu. Sharon Cuneta even mentions them in one of her Instagram videos with her very own coton de tulear, Chibi.
This gallery will make you want to adopt a fluffball of your own: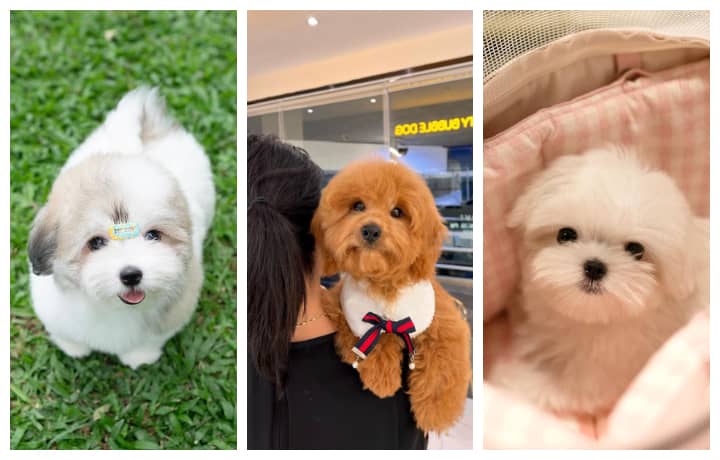 The Furbabies By Pretty Bubble Dog
The Furbabies By Pretty Bubble Dog
While taking in a pet into your home is already an act of love in itself, it would also be good to look at the options when it comes adopting or rescuing from a shelter (there is currently a surplus of perfectly healthy and adoptable cats and dogs in places like PAWS and CARA). For some pet owners, there's a certain look that they're going for, and there's a certain pedigree they require their pets to have—that's when places like these come into play.
If you have your heart set on taking one of these puppies home, it is up to you to do the necessary research and due diligence in determining that they are bred ethically and healthily. According to their website, Pretty Bubble Dog, which has been in the business since 1995, can assure you that you will be bringing home a "lovely, happy and healthy puppy." They do come with quite a price tag, though. Some of these breeds may cost you close to half a million pesos! This price point accounts for their pedigree, and if your pup comes all the way from South Korea, papers and their flight to the Philippines.
A quick Google or Instagram search will lead you to more pet shops similar to Pretty Bubble Dog that have stores both here and in Korea, like MINIPET, which has a presence on Instagram and Facebook.
Wherever you decide to adopt from, know that the newest member of your family will thank you and love you forever!
Lead photos from @yejinhand / Vogue Hong Kong / @sooyaaa__