Gideon Hermosa Shares His Expert Advice on Executing a Stylish Wedding
Weaving elements together and envisioning them into a whole is how events and wedding stylist Gideon Hermosa served up Alodia Gosiengfiao and Christopher Quimbo's dream set design
Grand events, great memories, and majestic, "Gideonized" settings—the equation is not complete without a drop of Gideon Hermosa's magic. A design whiz who is capable of enchanting spaces and transforming them into a whole new world out of a blank canvas, this celebrity go-to created Alodia Gosiengfiao and Christopher Quimbo's dream set design.
In a recent exclusive interview with Metro.Style, Gideon shared how his representation of Alodia and Christopher's vision came to life. "I met Alodia and Chris at an event on August 31 last year," he began. "After a few weeks, we set a meeting for the initial plans for their wedding. From there, it took five months to do everything—from planning and conceptualizing to production."
On Valentine's, the couple lived up to their big day and much to many's delight, the wedding ceremony was a whimsical treat to everybody who attended the event. "Alodia wanted something ethereal while the groom wanted it dark and magical—a great combination that I knew fit perfectly," Gideon told us.
As an event designer, he embraces what his clientele's creative stances are, making sure that their suggestions are taken seriously while steering the wheel as the master stylist of the affair. He said, "To the non-gamers, the wedding looked romantic but to the trained eyes, you would see that many elements meant a lot to Alodia and her love for gaming. That is what we wanted to showcase."
Gideon's marksmanship and eye for details are exactly what his clients are chasing after. His aesthetic is cut out for world-class functions, and he is already being tapped for the global terrain. With his ability to bring fresh concepts to the fore, Gideon Hermosa is an events heavyweight enough to make every moment last a lifetime.
"I took advantage of designing the space according to how they wanted the ceremony and reception to be held in the same venue. I wanted it seamless and of course, very enchanting," Gideon added, elaborating on how he actualized what newlyweds Alodia and Christoper wanted to narrate visually. "I suggested the idea of a midnight garden wedding completed with a huge full moon and waterfall as the video backdrop."
To further validate the theme of Alodia's wedding, which tells us a lot about her love for gaming, especially the game "Final Fantasy," Gideon spritzed elements that will spice up the overall design of the occasion. "The fireflies were one of the beautiful additions to our concept. It tied everything together and all fell into place," the House of Hermosa's CEO highlighted.
As the #Quimbodia wedding is a huge gathering of notable guests, though, Gideon found it tough to recreate the couple's reimagined choices at the beginning. According to him, a bigger space would help showcase more of what he was trying to materialize. In the end, however, he ended up living up to the lovebirds' expectations.
"From 300 people, the place filled up to 500, and with this, I had to adjust the design. Overall, it wasn't limiting given how well the space transformed to our exact vision," Gideon explained, saying that the ceremony was solemn despite the unusually dark backdrops. "It was truly a unique wedding. Even if you're not a gamer, you can feel how fantastic the space was."
When asked what his tips are for those who would love to engineer a similar event, Gideon replied: "Before even thinking of a whole wedding design, just focus on identifying the elements they want. The designer, with all his or her experiences, will know what to suggest that goes with it," he laid down. "Our couple (Alodia and Christopher) was very much secure in what they wanted and it didn't take a lot of time to know how it would look all laid out."
Deeming the ceremony a splendid creation that satisfied the groom, the bride, and the guests, Gideon summed it up: "The vibe and feel of it all transcended through the ceremony. Even if we imagined it as a midnight wedding, it had that solemnity that redefines weddings to what we know—in a church or garden with all light and brightness. Everybody felt the love and sanctity of the ceremony."
Here are some highlights of #Quimbodia's whimsical wedding: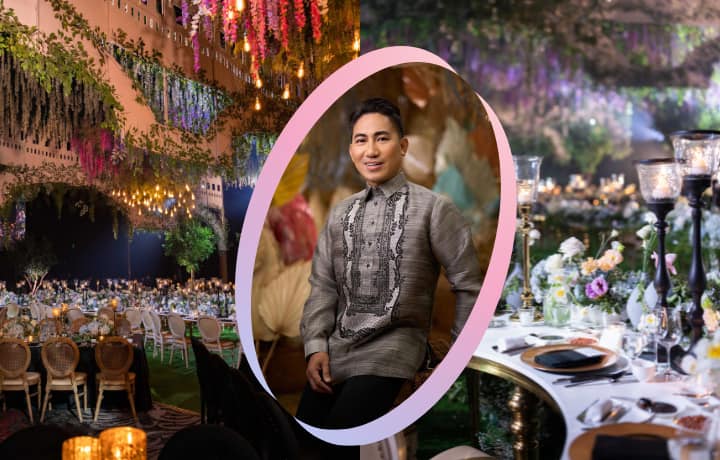 Photo Gallery
Photo Gallery
Lead photos courtesy of Kultura via @gideonhermosa