Metro Society's Raul Manzano's Birthday Blowout in Bangkok
Get a glimpse of Metro Society Editor-in-Chief Raul Manzano's 68th birthday bash!
EIC on the Move host and Metro Society Editor-In-Chief Raul Manzano recently celebrated his birthday in Bangkok, Thailand. The man of the hour was on the move, roaming the city's bucket list topnotchers. Fine dining marathons, dispensary tours, Thai café-hopping, cityscape-watching, and streetside wonders landed his trip's highlights as he honors another year of aging gracefully.
With good food and great company, Raul's celebration was actually a surprise from an armful of loving friends who left Raul's packing experience a plus challenge. With only a few o'clocks away from his Land of Smiles adventure, Metro Society's chief editor crammed his way through the shotgun trip. On IG, he worded: "When you are given four hours to pack your suitcases as you are told you are heading to Bangkok for a surprise birthday getaway. Thanks, girls!"
Feasting on gastronomic cuisines and traditional dishes and recipes is a sure wanderlust essential, and EIC on the Move's Raul Manzano is one to explore. For tourists who are eyeing the Thai cookery and culinary scene, he recommends some restaurants: "Check out BKK Social Club at The Four Seasons. Eat at Paste and J'aime. Go crazy shopping for fruits and Thai delicacies at Or Tor Kor Market."
"I had a great time. The highlight of the trip was that we avoided the malls," Raul tells Metro.Style. "The food and hotel scene in BKK is thriving with new hotels opening. We visited The Four Seasons where we had breakfast at their French pâtisserie, Café Madeleine. Had dinner at Ojo, a Mexican restaurant on the 72nd floor of The Standard Bangkok, another new hotel. Bangkok has a very vibrant design vibe which I always look forward to experiencing."
Today, as Raul turns 68, welcoming his birthday with a workout is how he kicks off party time. A keen early-morning exerciser who loves speed walks and long-distance runs, Raul tackles his paces one pinch of willpower at a time. Overall, he ticked a 20-kilometer finish off his to-do-tasks. Keeping his fitness and core values in check, Raul also gathered an array of things and people to be thankful for. On an Instagram post, he penned:
"Turning 68 today and still dancing to the beat of my own drum. Thankful for another year. I pray that my plans, decisions, and actions are guided by my values and beliefs. I pray that my mind, body, and spirit are vibrant, healthy, and full of love," he wished. As I reflect on the day I was welcomed into this world, all I want to say is how happy I am to have been given the valuable and precious gift of life, which is without a doubt the best birthday present I could possibly receive."
Have a happy birthday blast, Raul!
Here's a peek of how Raul Manzano celebrated his birthday in the bustling city of Bangkok: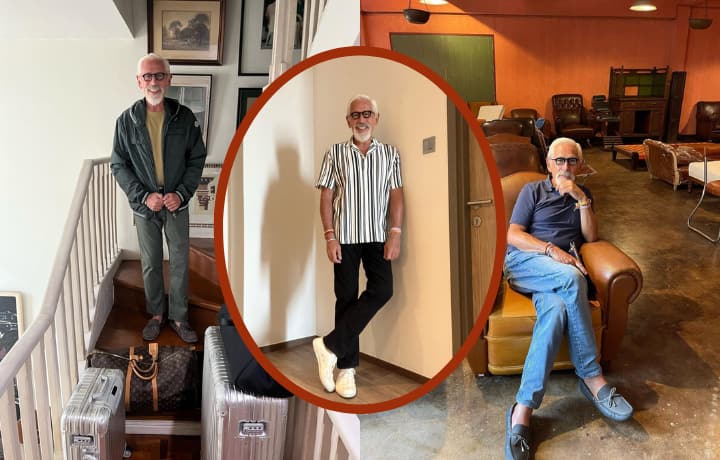 Photo Gallery
Photo Gallery
Lead photos from @eiconthemove_