How a Human-Centered Approach To Design Dictates The Look Of This Cafe
In its revamped edition, dedicated spaces give focus to the user in this well-loved Molito establishment
The well-loved cafe Group and Boiler Coffee Co. in Molito Complex, Alabang underwent an important update in its interiors as new owner Paolo Yupangco wanted to take things to the next level.
"We were very happy with the space and people were comfortable. But eventually we wanted to implement new ideas. I wanted to keep the core elements, the same vibe and same feel that people know. I wanted to keep the lights, the bike [on the wall], and the seating. We wanted to keep things the same but level it up," Yupangco is enthusiastic when he says this.
He is sitting on a midcentury modern velvet bench that was part of the original interiors of Group and Boiler. Originally, the layout of the cafe was open with a very small kitchen and bar in the middle. Since Yupangco wanted to serve more food items, a bigger bar area for baristas, and a small office space, he reached out to Tim and Marianne Wong, architects at Polygon: Human-Centered Space Deisgn to help realize his vision.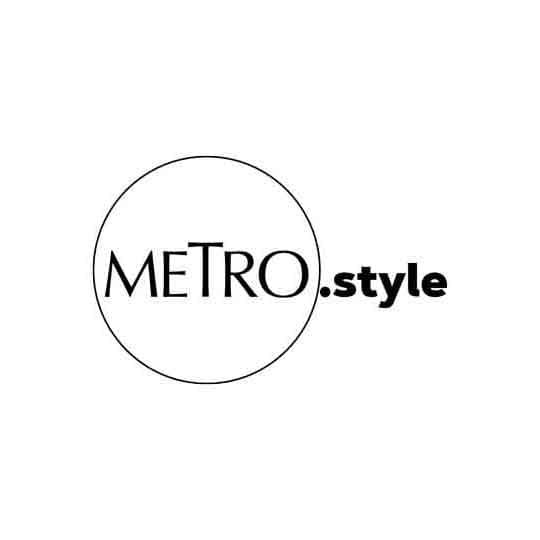 Architects at Polygon: Human-Centered Space Design, Marianne and Tim Wong with café owner, Paolo Yupangco at Group and Boiler. | Jar Concengco
"Last year because people who biked early morning, and Molito had a lot of outdoor space, the coffee shop grew in popularity. Paolo wanted to develop and improve the space," Tim Wong explains. "They also wanted to add food. Before it was just coffee so it was very limiting for them. So when he wanted to grow the brand, he wanted the space to grow with him. All those things we had to take into consideration so they can have a new space but still feel familiar. That was the goal of the whole thing."
Tim and Marianne used a human-centered approach to space design. Although this may seem like an obvious design strategy, many establishments lose focus and design instead for maximizing profit or space. "We have to always put into consideration the multiple end users of this space. There are the owners, the clients, and the staff. Those things we take into consideration and we put all those points together and find intersections and from there extrapolate the design," Tim says.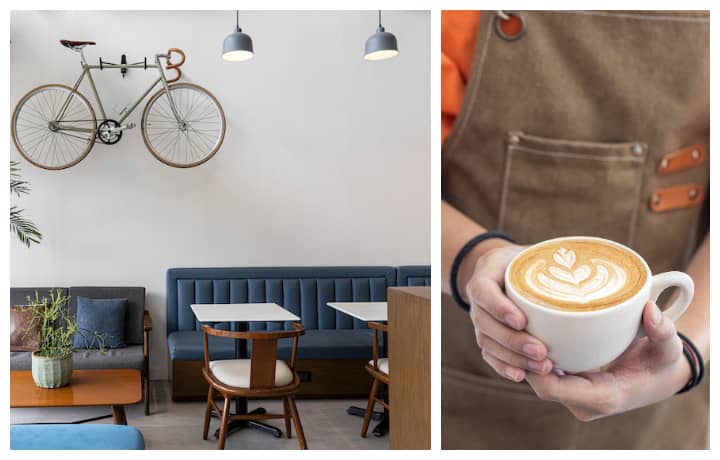 Photo Gallery
Photo Gallery
The husband and wife tandem observed consumer and staff behavior. They took note of where people sat most and what consumers took photos of while in the cafe. This helped them decide which parts of the cafe contributed to its identity. Those parts they would keep in the new layout of the cafe.
"The biggest change was the layout. Before it barely had a kitchen. We also switched the location of the toilet just to make the layout more workable," Tim says.
The new layout has a more spacious bar area that can accommodate 2 baristas simultaneously without them bumping into each other. The high ceiling also allowed for a loft where Yupangco set up a small office and a place for roasting beans.
"Before, Paolo had no space for doing paperwork for the cafe and he would do accounting on one of the tables in the dining area. Now he has his own office space upstairs," Marianne mentions.
The cafe has a prominent yellow and blue wall which references to the original wallpaper that still hangs in Yupangco's small office upstairs. "Now because of the pandemic we want dedicated spaces. Before we always thought about maximizing the space, communal tables and common areas. Providing a dedicated space gives focus to the user," Marianne adds. Tim agrees, "Now we realize the impact of space in our lives. We've stayed so long in our houses and we realize that these things like ventilation and lighting actually make a difference. When you say human-centered you try to understand how these things affect the people inside. When you understand the people inside, the place becomes more relevant to them. The solutions become more long lasting and sustainable."
As you enjoy the English Breakfast or Grilled Cheese with your coffee at Group & Boiler you can expect the space to grow through time. "The most important thing about human-centered design is that you allow the client to finish the conversation," Tim says.
"We tell our clients to not be pressured in filling up a space. Let the space grow with you," Marianne adds.
When thinking about designing for our own space, Tim has this advice, "It's a very introspective thing. You have to observe what you do. Write down your activities in a space. Understand and identify your habits." This will give you important clues as to how you should design your space.
Visit Group and Boiler at Molito Complex, Madrigal Ave, Ayala Alabang, Muntinlupa, 1780 Metro Manila. Call 0927 345 9469.