Nadine Lustre Is Living By Her Own Rules
The "Deleter" actress talked about what makes her tick, her methods of self-love, and how she sprang into her newest niche
Oh, to be Nadine Lustre and Philippine showbiz's most wanted. It's as if she's carved out a new genre of women—fierce, free, and forward. With several blockbuster hits, Best Actress embellishments, and a few lifetimes of success under her belt, it's no wonder that at 29, Nadine has grown exponentially as an artist and as her own person.
Mystery is Nadine's classic charm. It's everywhere—on her Instagram feed; in her discreet yet depth-infused photos; and in her once-little world that has become little no more. She has touched down to earth to become every filmmaker's, brand's, and fashion house's muse. She's omnipresent, yet still elusive. She is the conundrum circulating in the air that we can't stop breathing in.
It's the Nadine effect—pulling us closer, raking in a following of millions, and hypnotizing fans and entertainment stalwarts alike. Although my reductive first impression of her would always be aloof, remote, and hard to pin down, in an interview with Metro.Style, I got to walk the trails of her inner map, and to be honest, she's a rather "chill" one.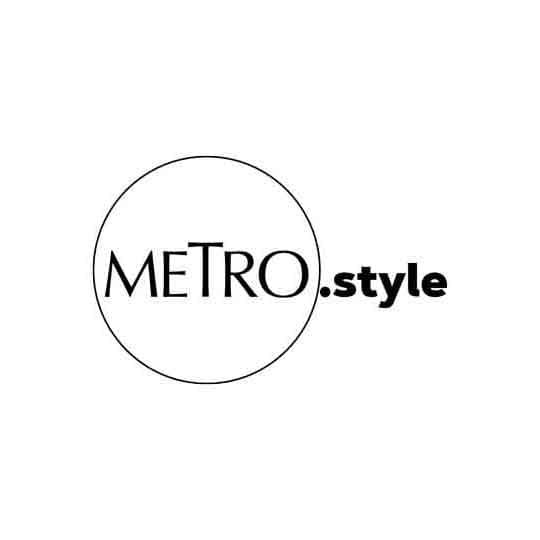 On Nadine: Ensemble by Materiel Bilisi | Photography by Dookie Ducay
Nadine is one with nature
I'd like to think that Nadine is one to take advantage of the sun's rays. Come sunny days, she boils creativity and concocts the jigsaw pieces that she managed to solve in her mind. Whether it's content for her YouTube channel or a simple me-time regimen, Nadine always finds time to be one with nature.
In fact, there's a high chance she's roaming around the outskirts of South France again—having a canoe ride through the forest, consuming truffles along the way, and stumbling upon a "fairy" that she just figured is herself, after all. And while she's aware that it's corn poppy flower season once more, she also knows that her season of rest has finally come.
"It's going to be the time for just being creative and rest also, kasi the whole year—so far—has been so busy for me na I never had the time to just sit down and be with my thoughts and my feelings, planning," she shared, hinting at her wild career calendar. "As in nothing talaga. Kahit when I'm in Siargao, I'm always working."
Well, I can't blame her—or the stars, or her Zodiac, or whoever is in charge of her schedule. It's written in Nadine's natal stars. She's going to be one of the actress to define her generation; a recurring narrative to every tale teller's story; a saint of success. And while she is yet to interpret an astrology chart, she is well-aware that retrograde, for unknown reasons, doesn't work on her, too.
"It's always good stuff happening sa'kin 'pag retrograde, kasi all of my friends are like, 'Ugh! I'm having such a bad day,' and I'm like, 'Uy, everything is going well for me!'" And that needs not to be questioned. Between flower-arranging, adoring furniture, and dabbling in artwork, Nadine is also clocking up most of her time in the quiet islands of Siargao—her personal heaven on land.
"When I started living in Siargao, that's when I discovered a slower life. Kasi here in Manila, parang lagari," Nadine fired away. "Even if I'm not working, I think it's just the energy of the workplace," she puts it, highlighting how fast-paced life in the city is and how she can still savor a career slowdown upon moving to the country's surfing capital.
"I can just lie down and be in nature and be with myself, and I don't feel bad about not doing anything," the water maven disclosed, taking pride in her decision to relocate. "I can just go to the beach and be unproductive and not feel bad about it. Parang when I'm here in Manila and unproductive ako for a day, I feel bad. You know what I'm saying?"
"I really am grateful that I have the means to have those days, 'cause I know that it's something that I need. I can't handle life when it's too fast and that's how my life was before," she opened up, sounding like there was a relief to her breath. "I think now, more than ever, I want to chill out a bit and just enjoy life—enjoy the slowness and the stillness."
Without fully succumbing to the pressures of the metro, its never-sleeping energy, and the non-stop work-till-you-drop, Nadine figured out a way to find a middle ground. "Iba 'yung setting ko sa Manila; iba 'yung setting ko sa Siargao. But it's nice to have both. It's balanced. It's just learning how to balance both of them."
"I want to slow down but at the same time, I want to work," Nadine added. "I guess the fire that I have now for my work is different from how it was last year. Parang now more than ever, I want to strike while the iron is hot, you know? I'm accepting all of the opportunities that I can at this point, but I'm happy to do it."
When asked what her favorite flower is, however, Nadine can't quite identify the specifics, but she described it as detailed as she could. "I don't know if it's a flower. Parang leaf lang yata siya but it's a furry-looking flower. Parang mukha siyang caterpillar. I don't really know what you call it, to be honest."
With her staying power in the industry, a truckload of projects left and right, and a legion of supporters who are ready to back her up, I think I know now what flora suits Nadine's life. It represents faith, hope, love, and above all, luck. It's a clover leaf—the rare, four-leafed one; the one that's difficult to find; the one that is just like Nadine—as few as one in 10,000.
The rising "Horror Queen"
Had directors known that Nadine would pass as the new face of Filipino horror, they wouldn't have looked for another star to headline their masterpiece. Recently, when Nadine was tapped to play the character of Lyra in Mikhail Red's Deleter, an "online content moderator" tucked in the guise of a customer service rep, an army of movie folks rejoiced.
She may have been our usual blockbuster film and primetime rom-com princess, but when the clock ticks 12, Nadine can transform into the wide-eyed screamer of a victim. "We didn't have any issues at all working on Deleter, and it's also my first horror film so I guess I'm proud of myself for pulling off a horror genre," she told us.
"Horror was kind of a new genre for me and to know that I've pulled [it] off—that's something to be proud of, I guess. Effective pala ko na manakot or na matakot or magpatakot," she continued, letting out a chuckle. "We're all very, very proud of it—the whole production; the whole team; the whole cast."
What is not to be proud of? After bagging Best Picture and six other titles at the 2022 Metro Manila Film Festival Awards, where Nadine was also hailed Best Actress, Deleter has become the talk of the town. "It's just one of those movies that I've done na parang happy lahat sa set," Nadine recalled, not knowing at the time of shooting that the project would earn her a new title.

Dubbed as the new "Horror Queen" of Philippine cinema, albeit new to the genre, Nadine revealed that horror is actually her cup of tea. "Ever since I was young, even though I was always scared of ghosts, horror has always been my favorite genre," she said, culling evidence from her childhood.
"I think my favorite movies, I would say, are It Follows and Sinister. When I think about them, they still have an effect on me," she continued. "I haven't seen those movies in so long but they're just really good movies." As to how she was able to make good use of her fear when she was internalizing for her scenes and Deleter, Nadine dished out:
"I brought up a lot of my fears while we were shooting Deleter just because it's hard to fake it. You can see it in the eyes kasi if you're just acting it, so I would always have an inner monologue," she began. "I would imagine that something really is there, and I think that's one of the things that I like about how I do acting."
"I have a good imagination so I'm able to imagine things that are not really there," Nadine persisted, noting that it's one skill that she got to acquire throughout her younger years. "That's why I'm scared of ghosts—because a lot of times, I would imagine that something is there and kind of scare myself, you know? Kaya takot na takot ako sa mga multo dati," she harked back.
And speaking of ghosts, one question from our list is dying to be noticed: "Is there something you wish to 'delete' in your life?" There goes her almighty pause. "Is there anything in my life that I want to delete?" Nadine asked herself, to which she answered in a swift: "I guess nothing in my life."
"All of the stuff that I went through, I'm happy I went through, just because I've learned so much from all of them," explained Nadine. "A lot of people ask me this, actually—during the press cons, 'yung mga interview. And then I always say na 'wala naman.'" As her words rang true that there really isn't anything that she wanted to change up to this day, she altered the question.
Nadine dropped the bomb, sharing a little-known fact that is impossible to have our heads wrapped around. "I guess if sa akin, something that I want to delete sa sarili ko would be me being a procrastinator," she declared, catching me by surprise. Much like everyone else, despite her glittering popularity, we now learned that Nadine is also just as human.
"Kunyari ngayon, I have a task that I need to do. I know that I'm procrastinating by saying 'I still have time to do it.' And then, 'pag malapit na 'yung deadline, I'll be like 'sh*t, I know it!'" And wow, does she speak for us, too. "It's one trait of mine that I really don't like," Nadine admitted, drawing me in a little bit more.
On lending a piece of herself to the public
Nadine's diary of experiences, more often than not, comes in tiles of photos uploaded on Instagram. If you want to catch wind of anything juicy that's going on with her private life, just scour the web for articles or even paparazzi shots—that is if the paparazzi can even get a hold of her.
If you want to have a peek at her evolving fashion choices, head straight to her online store. But if you want to keep up with Nadine's unpredictable timetable, Instagram is your guy. Here, you can check out what she's up to—if she's eating at a fancy resto, or just in a casual Siargao scene, or by the window capturing the Metro Manila cityscape.
Luckily, she's now treating us to a more intimate space. Her newly-minted YouTube channel, which was launched last February, gives us a glimpse of Nadine's inner sphere—from the likes of flower arranging with "Diamond Star" Maricel Soriano, whom she calls "Inay," to a cute video clip of her 4-year-old self blowing her birthday cake.
"What I wanted to do with it is to kind of let people into my life a bit more," Nadine responded, when asked what she wanted to convey in her vlog exactly. An outlet for her creativity and a means to keep her fans in the know, Nadine promised that while she is yet to explore her process in video content production, the rationale behind is to let people in.
"You have to plan a lot, too, which is something that I admit that I haven't been doing a lot," she said, at the time when she was preparing to leave for her France vacation. "It's because everything is just moving so fast. I never got the time to really sit down and plan but hopefully when I'm on the plane, I get to kind of plan what it is that I want to include in the videos."
Whatever it is that she decides to toss out into the world—or that the viewers wish to see her doing—one thing's for sure: it's going to be streamed, followed, and maybe even copied by the rest of the cyberworld. She's Nadine, after all, and we all itch to be part of her world—even just as an audience.
On going vegan and green
Amidst her almost-black-and-white Instagram feed, fiery looks, and sharp femme fatale outfits, lo and behold, Nadine has a heart so pure you start rethinking your life choices. She has the softest spot for animals and sentient beings, and to her, every living life form is created equal, which is the same reason why she made the switch and is now a committed vegan.
"I don't see them as another species that's beneath me. I see them as my equal, and they deserve to live in this world as much as I do," Nadine mused, justifying why animals shouldn't be treated as lowly. "I love animals so much. I don't like how you butcher them so you can consume them and it's just like five minutes of pleasure for your taste buds. After that, wala na."
Nadine, indeed, is coming from a place that while we can't quite fathom, we can absolutely feel. It's true—to be rich, famous, and talented is one thing, but to wear your heart on your sleeve is another. To be an empath while being one of the country's most-coveted is sure a confusing combination, but Nadine is all about compassion.
"I've noticed that I've become more conscious now with the stuff that I buy. I don't purchase leather anymore. I'm starting to look for brands that are vegan or that are synthetic," she proudly announced. "I feel good about it, just knowing that I'm not contributing to animal abuse, 'cause if you think about it, us abusing animals for our own benefit is kind of extreme."
That is why meat and animal products and byproducts alike hold little to no appeal for Nadine. The eco-warrior totally shunned the idea of animal consumption, and the same goes for the products that she nourishes her skin and hair with. "Basta nag-switch lang talaga 'yung mindset ko when I switched to vegan—parang everything followed."
Nadine suspended the idea that most carnivores who went vegan—in only a matter of time—would most likely revert to their old habits. According to her, discipline and knowing what to eat and where to dine are the key to enjoying this lifestyle. And as for her, the only way is North and forward. There is no giving in or going back.
"I think I can never go back na rin, e, just because I'm conditioned na to not eat animals. I believe it's the best thing that ever happened to me," Nadine argued. "At the end of the day, you can't help but feel bad for the animals. I mean, these pigs are like me. They're sentient beings and they have emotions and they're loving creatures."
There's this nagging feeling that our principles tend to inconvenience us with. It keeps knocking on our door until it's opened—until we welcome it with every fiber of our being. That is what happened to Nadine. Trying to be better and actually becoming better was once a duel with herself—a voice so loud she can't just shrug off.
"It makes me feel so bad that this is what's become of us—of them," Nadine continued, her tone not mellowing down. There's a sound of deep frustration into it. "The thing is, it's really just us humans kasi we also do it to our own race. We do it to other humans as well. A lot of days, I just feel like humans are so f*cked-up. What have we become, really?"
Of love and real relationships
If there is one thing that Nadine will always bring to battle with, I'm certain that it's her energy. The charisma that she has bewitches both the unique and the ordinary, passing as a social equalizer even. "Walang low vibes! Walang low vibes kasi you're not consuming low vibes and you're not taking low vibes as well from other people," the Deleter star said.
As to how she was able to withstand showbiz's greatest storms, Nadine came back with a straightforward answer. "The thing is, there's a lot of low-vibes people, you know? That's why I don't go out anymore 'cause for some reasons, I've become so sensitive with the energy that I absorb," she spelled out.
"I'm still learning how to block 'yung mga succubus and energy vampires. There's a lot of those!" she cracked, but with a dash of seriousness to her statement. "I've got rid of all those people in my life—people who shouldn't be in my life in the first place—well, at least my moldavite [crystal] did!" she quipped, breaking into a laugh.
Nadine, who recently got entangled with love team expectations and new relationships mumbo jumbo, talked about how grateful she is for the fans who remained faithful to her, even though their well wishes did not accord with their own liking. "They cared about my happiness and they were all moving through. They were accepting of the changes that I was going through."
"Du'n ko alam na ganu'n sila ka-connected with me and how they love me so much because they didn't care about all of that." Nadine conjured the words that her followers are probably dying to hear. "That's hard to find, ha. Those kinds of fans are really hard to find and they would go through any storm to support me and to support all of the projects that I'm doing."
Apart from the support that she's been getting from her fan base, Nadine is thankful, too, that her boyfriend Christophe Bariou has become her rock, especially when she thinks that she's falling flat. In fact, Chris would always encourage her to free up her thoughts and share what's on her mind.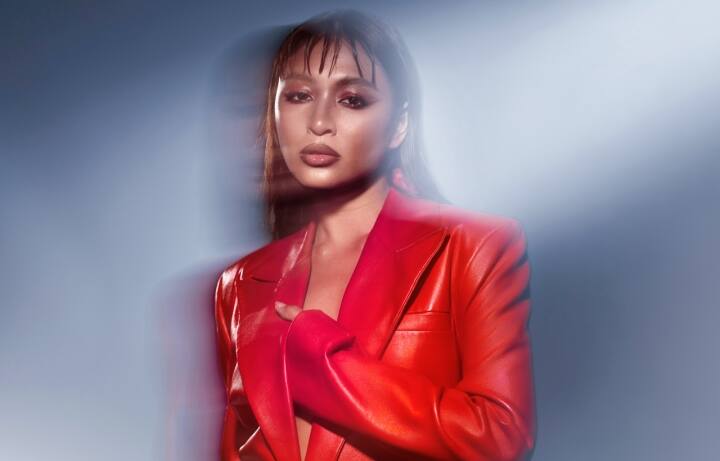 Photo Gallery
SWIPE LEFT OR RIGHT
TO NAVIGATE BETWEEN PAGES
That is why Nadine is big on decorating her life with quality people. She wishes to bring in more love, compassion, and genuine energy. If the situation calls for it, she wards off negative people, too, yet she is receptive to what might come in—good or bad, for better or for worse. "We all go through something, and that's not an energy that I shut out."
"I think the love that I have for myself and for everything kind of helped me go through it and figure things out," said Nadine. And while she claims that pain and acceptance coexist in the process, the actress-musician is still selective of the people that she receives at her doorstep. "Siyempre, good energy—high vibes—more than ever."
Now that Nadine haas just released a new single that she calls "Overgrown," and two other major projects underway—the A-list actress gave her word. "It's going to be another step up just because I really feel like expanding again and going another level higher with the stuff that I'm doing."
With her team's extra hands and splash of Gen Z creativity, her smash-proof self-awareness, and the hard-earned lessons of life, it's a sure thing—no one can dampen Nadine Lustre's spirits. Today, she wants to tell herself this: "Thank you, because we've done through so much sh*t. We've gone through so much sh*t and yet here we are."

"We're loving life more than ever," she went on, showing off the fighter that she is. Her calm soul, untamed heart, and enchanting effect on people—this is the equation that makes Nadine an unquestionable mix of sugar and spice. "I'm proud of you, and I love you. Stay as you are. It's only going up from hereon. Be ready."
Photography by Dookie Ducay
Creative direction by Randz Manucom
Art direction by Raff Colmenar
Sittings editors: Grace Libero-Cruz, Red Dimaandal, Kate Paras-Santiago and Troy Barrios
Makeup by Anthea Bueno
Hairstyling by Carlo Roblico
Fashion styling by Joanna Garcia, assisted by Nica Espinoza and Elena Rosy
Cover story by Janelle Cabrera-Paraiso
Videography by Giancarlo Escamillas
Photography assistant: Byron De Guzman and Mark Catunga
Shot on location at City of Dreams Manila
Furniture by CWC Interiors
Special thanks to Romina Gervacio, Miguel Laureta, and Viva Artists Agency